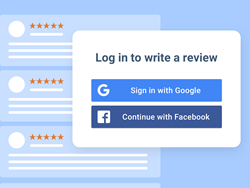 'We believe that reviews should be authentic, descriptive opinions about the customer's experience with a product or service,' said Neeraj Gupta, COO at BirdEye. 'We're cracking down on anyone trying to game the BirdEye platform with fake reviews.'
PALO ALTO, Calif. (PRWEB) April 13, 2018
Customer experience leader BirdEye today announced it has enhanced its platform to further safeguard review authenticity. The new features include stricter user authentication, review content relevance requirement and spam and slander detection algorithms.
To step up user authentication, BirdEye now requires a verified social login from anyone attempting to write a review on a BirdEye business profile. Customers can write out their review and select a star rating, but in order to submit this feedback they are now prompted to login using Google, Facebook or LinkedIn.
Reviews with little or no text are not valuable to consumers since they contain no information about what was good or bad about the reviewer's experience. BirdEye's new 50-character review minimum is intended to improve the relevance and richness of content within each review. Every user is now encouraged to provide detailed feedback on their experience to help other users.
BirdEye has also enhanced its fraud detection algorithm designed to identify, flag and filter any reviews containing spam and slander. This includes reviews containing profanities, descriptions of off-topic experiences completely unrelated to the business, URLs to any external sites, and a host of other practices that violate standard review site policies. This will prevent fake reviews with unhelpful content.
BirdEye and several prominent companies, most recently Google and Yelp, are taking a hard stance against review fraud, which has become an increasingly prevalent problem on review sites. Since reviews have a growing impact on customers' purchase decisions, the trust customers place in reviews is directly tied to their authenticity. BirdEye aims to preserve this trust.
"We believe that reviews should be authentic, descriptive opinions about the customer's experience with a product or service," said Neeraj Gupta, COO at BirdEye. "We're cracking down on anyone trying to game the BirdEye platform with fake reviews."
BirdEye's new features ensure that businesses will receive only relevant, authentic reviews that provide insight into customer experience that helps them improve their operations. At the same time, consumers can be confident that the content they see on BirdEye represents real feedback from real customers.
About BirdEye
BirdEye is a SaaS platform that reimagines the way customer feedback is used to acquire and retain connected customers by closing the loop between reputation marketing and customer experience. BirdEye enables businesses to get new reviews and captures existing customer sentiment from review sites, social media, Net Promoter Scores, and support cases in real-time. BirdEye converts all feedback into actionable insights so businesses can engage in every step of the customer journey, establish a positive online presence, and benchmark performance across locations and against competitors. BirdEye platform is trusted by 15,000+ businesses and prominent F1000 enterprises. BirdEye was founded in 2012 by Google, Yahoo, Amazon alumni and backed by Silicon Valley who's who including Trinity Ventures, Salesforce founder Marc Benioff and Yahoo co-founder Jerry Yang. Learn more at BirdEye.com.