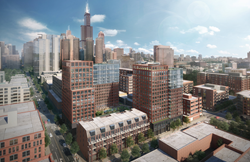 These are exciting times at ZOM as we celebrate our 40th anniversary and look ahead to our continued success in the apartment industry
ORLANDO, Fla. (PRWEB) April 13, 2018
ZOM was recognized as an apartment industry leader by The National Multifamily Housing Council (NMHC). The NMHC 50 rankings have remained a key industry benchmark and resource for the past 29 years and is the authoritative ranking of the largest apartment owners, managers, developers and contractors in the U.S. ZOM Living was included as one of the nation's Top 25 developers, with over 2,207 units developed last year.
"As one of the leading luxury multifamily developers in the U.S., we are honored to be recognized for our efforts," said Greg West, ZOM's Chief Executive Officer. "These are exciting times at ZOM as we celebrate our 40th anniversary and look ahead to our continued success in the apartment industry".
ZOM recently expanded its development activities into Charlotte and Chicago, and is setting its sights on Boston as well as various segments of the senior living market, through a new affiliate ZOM Senior Living.
About ZOM:
ZOM Living is one of the most highly regarded luxury multifamily developers in the United States, and has joint ventured or directly developed nearly 20,000 apartment units nationwide, with an aggregate value of over $4 Billion. Throughout its 40-year history, ZOM has garnered more than 160 industry awards for project design and development expertise, including the prestigious National Multifamily Development Firm of the Year award and garnering two national Pillar Awards from the (NAHB) National Association of Home Builders, for Best Low-Rise Project (Baldwin Harbor/Orlando) and Best High-Rise (Monarc at Met3/Miami).
ZOM is headquartered in Orlando and has regional development offices in South Florida, Texas, Washington D.C., Chicago and Raleigh. ZOM has 5,500 units currently under construction or in design/predevelopment throughout the U.S., with a total capitalization of $1.8 Billion. For more information on ZOM's multifamily portfolio, visit http://www.zomliving.com.
About the National Multifamily Housing Council:
Based in Washington, D.C., the National Multifamily Housing Council (NMHC) is the leadership of the trillion-dollar apartment industry. Bringing together prominent owners, managers and developers who help create thriving communities by providing apartment homes for millions of Americans. NMHC provides a forum for insight, advocacy, and action that enables both members and the communities they help build to thrive. For more information visit http://www.nmhc.org.