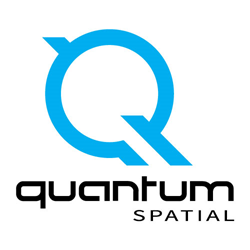 "We are looking forward to teaming with our colleagues at OPRD to showcase this cutting-edge project. Once complete, this geospatial imagery will be a valuable resource," said Russ Faux
ST. PETERSBURG, Fla. (PRWEB) April 17, 2018
Quantum Spatial, Inc. (QSI), the nation's largest independent geospatial data firm, today announced that Melissa Christie, Western Region account manager, and Ethan Gardner, remote sensing analyst, at QSI, will join with the Oregon Parks and Recreation Department (OPRD) on a panel to discuss the Oregon Imagery and Web Hosting Services Program at the GIS In Action Conference, taking place April 23-24 at Portland State University. QSI is in the process of acquiring and processing high-resolution imagery for the entire state of Oregon, totaling nearly 100,000 square miles. The images then will be made available via the web to every level of government in Oregon, the academic community, private sector business, NGOs and the public.
"We are looking forward to teaming with our colleagues at OPRD to showcase this cutting-edge project," said Russ Faux, senior vice president, Enterprise Growth Initiatives at QSI. "Once complete, this geospatial imagery will be a valuable resource that can be leveraged by a wide range of stakeholders for a variety of applications that address public safety, environmental preservation and land use planning."
WHAT: 26th Annual GIS In Action Conference
Hosted by the Columbia River Region of the American Society of Photogrammetry and Remote Sensing (ASPRS) and the Oregon-Southwest Washington Chapter of the Urban and Regional Information Systems Association (URISA) at Portland State University
WHEN: April 23-24, 2018
WHERE: Portland State University
Smith Memorial Union
Portland, Ore.
DETAILS: Session: Oregon Imagery and Web Hosting Services Program
Monday, April 23
10:30 a.m.
During this session, QSI's Christie and Gardner will join Brady Callahan from OPRD to share the overall project approach, quality control and use cases for the Oregon Imagery and Web Hosting Services Program. The program was created with the purpose of obtaining 1-foot resolution imagery over the whole state and hosting this data as a web service to address the increased demand for high-resolution imagery in a timely manner and make new and historical imagery more easily accessible. In the spring of 2017, Quantum Spatial began acquiring and processing high-resolution imagery for the eastern half of Oregon, approximately 47,624 square miles. Flights to collect the remaining 52,290 square miles comprising the western half of the state are anticipated to begin this spring.
Vendor Tabletop
QSI also will have a tabletop display at GIS In Action, where attendees can find more information about the company's comprehensive capabilities for geospatial data acquisition, analysis, integration and management. QSI also will showcase its portfolio of advanced imaging and remote sensing technologies, backed by powerful modeling, visualization and GIS tools that have been used in numerous applications - from habitat assessment and land use planning to regulatory compliance, engineering design, and disaster preparedness.
CONTACT: For more information or to set up a meeting at GIS In Action, email Melissa Christie at mchristie (at) quantumspatial (dot) com.
About Quantum Spatial, Inc.
Quantum Spatial, Inc., (QSI) the nation's largest independent geospatial data firm, provides geographic insights to the largest government and corporate organizations that need geospatial intelligence to mitigate risk, plan for growth, better manage resources and advance scientific understanding. A pioneer in advanced mapping technology, QSI's end-to-end solutions and services deliver the industry's highest data quality and accuracy, while leveraging the widest array of technologies for analyzing all types of terrains. Customers use the company's acquisition, processing, analytics and visualization solutions in a range of technical and scientific disciplines – from geology and biology, to hydrology, forestry and civil engineering. Utilities, oil and gas producers, engineering and construction firms, as well as the military and major government agencies, are QSI customers. QSI has multiple offices around the country. For more information visit quantumspatial.com, join us on LinkedIn or follow us on Twitter @QuantumSpatial.