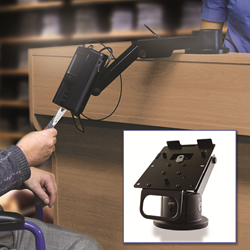 We're pleased to be manufacturing this product right here in the Chicagoland area. Block and Company's MMF POS division has been making products for the Point of Sale industry for over 40 years and we're proud to introduce a solution for individuals with disabilities
WHEELING, Ill. (PRWEB) April 16, 2018
MMF POS, a division of Block and Company, Inc., has designed an innovative, patent-pending, Wheelchair Accessible Payment Terminal Mount that makes it easier for people with disabilities to checkout at retail stores, restaurants, hotels, healthcare facilities and other places. This product features a unique adjustable arm that lowers the credit card terminal to a height that enables those in wheelchairs to complete payment transactions without relinquishing payment cards or PINs.
The Wheelchair Accessible Mount addresses the accessibility issues that many wheelchair users encounter when they are paying for goods and services. In most situations, the payment terminal is on a counter that's out of reach for a customer in a wheelchair. The person has to give their payment card and PIN to the cashier or another customer to help them complete their transaction. The customer then becomes vulnerable to security breaches and fraud. With the recent uptick in fraudulent information disclosures and other security weaknesses, this inaccessibility is a major concern.
Recent studies have indicated that the frequency of litigation due to inappropriate accessibility in checkout lanes is increasing and has already affected many retailers. This is due in part to the standards set by the National Federation of the Blind and ADA (Americans with Disabilities Act). These standards include inaccessible or unusable payment keypads for wheelchair or visually impaired customers at the checkout location.
"Accessibility will continue to be a growing concern as more litigation becomes public knowledge," said Larry Greenberg, Director of Sales and Marketing for MMF POS. "The wheelchair accessibility issue affects any business that accepts credit card or debit card payments. It also affects any business that uses electronic terminals for confirming information and obtaining signatures among other activities in providing a good customer experience for people with disabilities."
"We're pleased to be manufacturing this product right here in the Chicagoland area. Block and Company's MMF POS division has been making products for the Point of Sale industry for over 40 years and we're proud to introduce a solution for individuals with disabilities," Greenberg said. "Retailers and other businesses can easily adopt this new accessible payment approach to improve their customer's experience and help prevent potential litigation related to wheelchair access."
"In fact, initial customer reviews are really positive," he said. "These units have been deployed in several locations and we are hearing many great comments about how our mounts are helping make the checkout experience easier and more secure."
MMF POS, a division of Block and Company, Inc., is a leading manufacturer and supplier of cash drawers, credit card payment terminal stands, tablet enclosures and stands, mounting solutions and other accessories for the POS market. The company provides a complete line of product solutions to enhance the retail checkout experience for both retailers and their customers. MMF POS products are ideal for retail, restaurants, bars, night clubs, automotive, specialty, grocery, hospitality, convenience stores, gaming, healthcare, and banking applications.
Awards:
In 2017, the MMF POS Wheelchair Accessible Payment Terminal Mount received the award for Best Core Business Product from the North American Office Products Association – in addition, the Wheelchair Mount was nominated as Product Innovation of the Year and People's Choice awards.