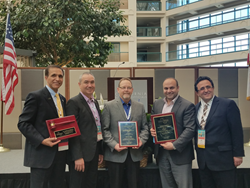 LOS ANGELES (PRWEB) April 16, 2018
How many buildings in California are at risk of failing in a major earthquake? A group of seismic safety experts spoke out recently about new legislation that could provide more accurate data about the damage that could happen when The Big One strikes.
California Assemblyman Adrin Nazarian, speaking at the 56th Annual Business Meeting of California Building Officials (CALBO), explained the significance of his bill, AB2681, which would provide a comprehensive assessment of vulnerable buildings in highly populated regions prone to earthquakes.
He was joined by Evan Reis, Executive Director of the United States Resiliency Council; Ali Sahabi, Chief Operating Officer of Optimum Seismic; Ryan Kersting, associate principal at Buehler and Buehler, and David Khorram, immediate past president of CALBO. The group of speakers collectively addressed issues related to seismic resilience as outlined in a recently whitepaper study, "The Case for Earthquake Resilience - Why Safer Structures Protect and Promote Social and Economic Vitality."
Nazarian spoke on the advancements made in understanding earthquakes and building safety, but said more needs to be done.
"It's great that we're able to protect lives," he said, "but if we are not able to protect the buildings that house large numbers of tenants and office space, in a place like the Greater Los Angeles area, we're looking at upwards of maybe a trillion dollars of loss in damage and diminished economic activity over the course of however many years it takes us to rebuild."
Many of the speakers at the March event in San Francisco are members of the Seismic Resilience Initiative (SRI), a working group led by the United States Resiliency Council that includes BizFed, practicing California Building Officials, practicing California Structural Engineers and others with technical assistance from the California Seismic Safety Commission, California Office of Emergency Services, the California Department of Insurance, and the International Code Council. The mission of SRI is to promote statewide policy that will identify buildings known to present a heightened seismic risk of death, injury and damage based on their age, structural system, size and location.
Sahabi said the problem of earthquakes is not restricted to California. If a major quake strikes and disrupts business and the local economy, the impacts will be wide-spread.
"AB 2681 will have a positive and multifaceted impact on our communities," Sahabi said. "By identifying our vulnerable buildings, we can implement positive social change to protect our limited housing stock. The bill supports the economy by preserving the buildings where people do business and make a living. Finally, it minimizes the disastrous environmental impacts that widespread destruction would bring, burdening our streets and landfills during recovery."
More than 90 percent of most buildings in California's major metropolitan areas were constructed before modern building codes, Reis said.
Noting that automobiles are required to post ratings for fuel efficiency and safety, he said buildings should be subjected to the same level of transparency.
"We should have rating systems for buildings like we have for cars," he added.
Nazarian's bill will identify California's vulnerabilities and provide the basis for a thorough assessment of the potential impacts we face as a state – spotlighting communities where there is an urgency to address the matter. The legislation, if adopted, will:
1. Develop criteria to identify seismically vulnerable building types.
2. Direct building departments to develop an initial list of potentially vulnerable buildings.
3. Notify building owners that they may have potentially vulnerable buildings.
4. Direct noticed owners to verify the vulnerability of the structure.
5. Build and maintaining a statewide data repository of potentially vulnerable buildings.
6. Identify possible funding mechanisms to offset costs to building departments.
Jay Elbettar, president of the International Code Council Board of Directors, said speakers at CALBO's event were thorough and informative.
"I was impressed with the balanced nature of the presentations," he said. "The panelists were extremely well-informed and presented a comprehensive analysis of the technical, social and economic aspects of seismic resiliency."
About USRC:
The United States Resiliency Council's mission is to educate, advocate and promote better tools for assessing and communicating building performance, and to establish and implement meaningful rating systems that describe the performance of buildings during earthquakes and other natural hazard events. http://www.usrc.org.
About Optimum Seismic:
Optimum Seismic, Inc., is Southern California's leading retrofit company for earthquake retrofit engineering and construction, specializing in multifamily and commercial buildings. Since 1984, the team at Optimum Seismic has completed more than 1,900 retrofits throughout the state of California. For information, visit http://www.optimumseismic.com.