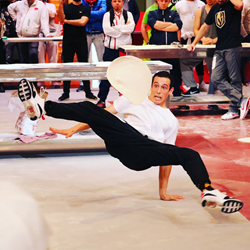 PARMA, Italy (PRWEB) April 14, 2018
U.S. Pizza Team (USPT) member Scott Volpe won the silver medal in the Freestyle Acrobatics category at the World Pizza Championship in Italy this week.
The owner of Fiamme Pizza in Tucson, Ariz., Volpe, in his second trip to Parma as a member of the USPT, earned the second-place finish after three days of competition between 29 spinners. This brings the USPT's medal total in freestyle acrobatics to five in the last nine years.
"This is what I've been working for," Volpe said. "The training and competing all year long has definitely been worth it. Now to come back next year and get gold."
Meanwhile, Brian Hernandez, director of the USPT and test chef for PMQ Pizza Magazine, received the highest score for American competitors in the Classico event, placing in the top 50 out of 442 competitors.
"I still don't believe it," Hernandez said. "This (Classico) is the largest category, full of great pizzaiolo and pizzaiolas from USA and other countries. At least I can still boss my team around for another year without feeling guilty!"
Thirteen members of the USPT made the hop across the pond to compete in the 27th World Pizza Championship on April 9-11. With both seasoned veterans and wide-eyed first-time competitors attending, the USPT participated in categories ranging from traditional pizza, pizza on the peel, gluten-free, pizza in the pan, pizza for two (made by two pizzaiolos together), largest dough-stretch, fastest pie maker and freestyle acrobatics.