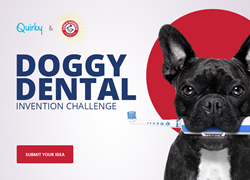 The pet oral care market is estimated to grow to nearly $1B by 2020 - it's ripe for innovation.
NEW YORK (PRWEB) April 19, 2018
Fetch for Pets, Arm & Hammer's long-time partner in developing pet products, is seeking new, innovative products to help improve the dental care regimen and overall health of our canine companies, launching the Doggy Dental Care Challenge with invention community Quirky.
The market for canine dental care products has exploded over the past decade, with dozens of new and old players launching everything from treats to toys all designed to help our four-legged friends maintain a healthy mouth. According to Packaged Facts, the pet oral care market is estimated to grow to nearly $1 billion by 2020. Arm & Hammer is looking to continue to grow their market share by introducing new and innovative products – and they're tapping into the power of community-led invention with Quirky.
Arm & Hammer has identified real challenges pet owners face to guide Quirky's community of more than 1 million users to discover solutions for. From the need to accommodate various sized breeds to the goal of making the dental care process seamless and easy without having to stick your hands in your dogs mouth, making him uncomfortable. Anyone can use this inspiration, tap into their creativity and share a product concept that will keep our furry friends mouths' clean. Following the close of the competition, Arm & Hammer will select a winning product or products, which will be developed for retail by Fetch for Pets.
This isn't the first time Quirky's invention community has created a breakthrough product for pets; the Quirky Pawcet, a drinking fountain for dogs, was invented by Quirky member and dog owner, Tony Lytle to keep his dogs hydrated while playing outside during the summer.
The Quirky and Arm & Hammer Doggy Dental Challenge is live and accepting submissions until May 18th, 2018.
About Quirky: Founded in 2009 with a mission to "make invention accessible," Quirky brings new products to market by connecting a global community of inventors to established manufacturers. At the nexus of technology-enabled cultural trends like the maker movement, community creativity and the demand for meaningful product backstories, Quirky has challenged the status quo of invention to become a major force in the product development landscape. Quirky has launched more than 150 products across categories including electronics, home and kitchen, and more than 1 million active community members share in the product royalties.
About Fetch for Pets : Fetch for Pets is a leading pet product manufacturer dedicated to bringing major global brands to the pet industry. We develop cross category pet product lines based on retail and market demand as well as industry trends. Fetch has launched thousands of products with strategic licensing partners under brands including Burt's Bees, Arm & Hammer, Shout!, CHI, BioSilk, Glad, Fresh Step and more. Fetch also provides private label development and manufacturing for top retailers including Target, Walmart, PetSmart, Petco, Meijer and Walgreens. Working closely with retailers, brand teams and factories, our team builds cutting edge programs that raise the bar on quality, value and innovation. Find out more at http://www.fetch4pets.com./
About Arm & Hammer™ For more than 170 years, ARM & HAMMER™ Baking Soda's familiar orange box has been a trusted fixture in both the refrigerator and home. The brand was founded in 1846 when Dr. Austin Church and John Dwight began to produce and sell sodium bicarbonate under the ARM & HAMMER™ brand name. Today, Church & Dwight, Co., Inc. manufactures a variety of cleaning, freshening and deodorizing products for the home, family, pets, and body under the iconic ARM & HAMMER™ brand name. For more information visit http://www.clumpandseal.com/.
Media Contact, Quirky: Lissa Regets, lissar(at)quirky(dot)com, (480) 241-9550