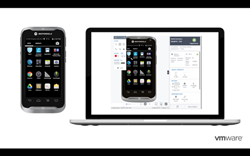 VMware and AetherPal are collaborating to provide businesses with a solution to comprehensively manage the full lifecycle of transformation, maximize productivity, and minimize downtime.
SOUTH PLAINFIELD, N.J. (PRWEB) April 17, 2018
AetherPal, Inc., a market leader in Mobile Support, today unveiled details of its collaboration with VMware to help customers with advanced remote management requirements, enabling IT to significantly reduce downtime and increase productivity. VMware Advanced Remote Management, powered by AetherPal technology, allows IT to more securely connect to remote devices in the field to efficiently diagnose, remediate, and support apps and devices to increase uptime, productivity, app adoption, and utilization, while reducing downtime, device returns, and service calls.
Advanced Remote Management addresses the enterprise reality that mobile access is now mission critical for modern businesses, especially apparent in the rapidly transforming field service, hospitality, healthcare, manufacturing, financial services, and retail industries. In these industries, employees conduct most of their daily work, customer interactions, and revenue generation through mobile computing and the use of corporate-owned rugged and line-of business devices for business-critical operations. Downtime of these types of devices is not simply an inconvenience, it can impact staff productivity, customer satisfaction, business operations, and overall profitability.
"A company's digital transformation success is highly dependent on its ability to provide its employees with access to the apps they require – when, where and how they want to access them," said Noah Wasmer, Senior Vice President and General Manager, Mobile Products, VMware. "Advanced Remote Management is a critical component that helps enterprises keep their users connected, by using a simple intuitive interface to quickly troubleshoot and resolve issues or maintain apps and devices. This support and reliability is critical to delivering the business transformation initiatives our customers are embarking upon today."
"Successful mobile deployments address the full life-cycle of transformation, from the provisioning of devices and deployment of apps, through end user training and support," said Daniel Deeney, CEO, AetherPal. "VMware and AetherPal are collaborating to provide businesses with a solution to comprehensively manage this full lifecycle, maximize productivity, and minimize downtime. Advanced Remote Management provides customers with the ability to optimize costs and reduce onsite support, as well as costly device returns to service centers."
The solution is designed to benefit every phase of the mobile business lifecycle by saving time, reducing costs and improving IT and end user productivity. The always-on mobile workforce is more geographically dispersed than ever before. Secure IT staff visibility into mobile applications, devices and connectivity issues is essential. Regardless of the business application, device or OS, Advanced Remote Management delivers full lifecycle support that enables IT to keep mission critical mobile deployments up and running.
Additional Resources
VMware is offering a companion blog on today's collaboration news at http://blogs.vmware.com/euc/2018/04/vmware-collaborates-aetherpal-deliver-leading-advanced-remote-management-solution.html
About AetherPal
AetherPal helps enterprises drive app adoption and usage through on-device training and keeps their apps running with remote support, so that enterprises can efficiently and reliably scale their businesses on mobile.
AetherPal's Mobile Support includes:

Remote Support, which enables IT staff with real-time remote control, visibility, and access to mobile devices, helping to improve productivity and efficiency, while reducing downtime. Remote Support boosts IT and mobile worker productivity by quickly and securely connecting to devices to troubleshoot and resolve device, network, or app issues. For more information, visit https://aetherpal.com/products/remote-support/.
GuideMe®, which enables enterprises to drive adoption and utilization of business-critical apps with contextual mobile training., as well as GuideStudio, which enables Help Desks, IT, and App Developers to quickly and easily create guides. For more information, visit https://aetherpal.com/guideme/.
AetherPal customers deploy its Mobile Support software on more than 45 million mobile devices helping mobilize their business processes while minimizing infrastructure costs.
AetherPal is backed by New Venture Partners and PJC.
For more information, visit http://www.aetherpal.com.
AetherPal, GuideMe, and GuideMe LiveGuides are registered trademarks or trademarks of AetherPal, Inc. in the United States and other jurisdictions.
VMware and VMware Advanced Remote Management are registered trademarks or trademarks of VMware, Inc. in the United States and other jurisdictions.