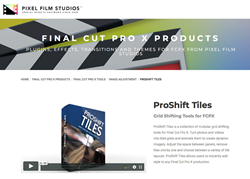 "ProShift Tiles brings incredible shifting effect potential to Final Cut Pro X Users!"
ALISO VIEJO, Calif. (PRWEB) April 16, 2018
ProShift Tiles is a collection of modular grid shifting tools for Final Cut Pro X. Turn photos and videos into tiled grids and animate them to create dynamic imagery. Adjust the space between panels, remove tiles one by one and choose between a variety of tile layouts. ProShift Tiles allows users to instantly add style to any Final Cut Pro X production.
Turn any Final Cut Pro X project into an animating tile grid using ProShift Tiles. Shift individual tiles to simulate a puzzle and stylize scenes instantly. ProShift Tiles gives users the ability to create wonders in Final Cut Pro X.
Using ProShift Tiles is easy. Simply drop a preset on top of footage in the timeline to begin. Then, stack additional presets on top of previous ones and stagger the start points in the timeline to offset animations.
ProShift Tiles includes a variety of tile layouts: 2×1,1×2, 2×2, 3×2, 4×3, and 5×3. This ensures that users have several choices to work with in Final Cut Pro X. Pixel Film Studios give users all the tools they need with ProShift Tiles.
Tile layouts can be altered using controls in the inspector window. Adjust the Scale in Edges slider to decrease the size of tiles and increase the space between them. Plus, choose the animating tile and direction it moves to using drop-down menus. Adjust the speed and interpolation to finalize.
Established in 2006, Aliso Viejo, California-based Pixel Film Studios is an innovative developer of visual effects tools for the post-production and broadcast community. Their products are integrated with popular non-linear editing and compositing products from Apple FCPX. Apple, the Apple logo, Mac OS X, and Macintosh are registered trademarks of Apple Inc. in the U.S. and/or other countries. All other trademarks and trade names are the property of their respective owners.