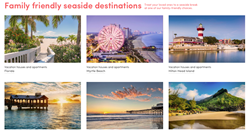 ...Holidu gives our property managers targeted direct access to a large base of customers, and continues our model to get our property collection in front of every traveler on the planet...
EMERYVILLE, Calif. (PRWEB) April 16, 2018
RedAwning.com, the world's largest collection of vacation properties, today announced that it has partnered with Holidu, a leading metasearch engine that allows travelers to find, compare, and book unique vacation rentals around the world. This partnership continues the rapid expansion of RedAwning's industry leading distribution network, as the company seeks to make alternative accommodations available wherever consumers shop for travel. Property Managers included in the Redawning Collection of properties will automatically be included in this exclusive new marketing channel.
"The value of having large metasearch sites like Holidu directly in our network is immense for our property managers, giving them more targeted direct access to a large base of customers, and continues our model to get our property collection in front of every traveler on the planet, wherever they shop," said RedAwning CEO, Tim Choate. "RedAwning already offers the most robust marketing network to property managers, and now we are expanding further our unique and exclusive distribution opportunities not available through any other approach."
"We are thrilled to have this new partnership with a strategic global player like RedAwning," said Johannes Siebers, CEO and co-founder of Holidu. "Following our growth and strong position in Europe, we look forward to collaborating with RedAwning to further develop our presence in the US. Partnering with another company that shares our love for technology and simplifying the vacation process is a natural fit. RedAwning enjoys an excellent reputation with high-quality properties and customer services, and we are very pleased about this addition to our portfolio and the integration of many new properties."
Holidu expands on other recent additions to the RedAwning Network, which already includes Booking.com, Expedia, HomeAway, VRBO, Airbnb, TripAdvisor, and unique sites like Glamping Hub.
ABOUT REDAWNING
RedAwning is the world's largest branded collection of vacation properties offering a comprehensive layer of services and support with every stay. With over 100,000 unique properties in over 10,000 destinations, RedAwning continues to expand on being the broadest single point of access to the largest network in the world for alternative lodging, and with every major travel website participating, is the leading supplier of vacation rentals to Booking.com, Expedia, HomeAway/VRBO, Flipkey/TripAdvisor, and Airbnb. RedAwning also operates a number of exclusive vacation property booking websites, including Perfect Places, VaycayHero, TravelPro Rentals, and RedAwning.com.
RedAwning has been a leading innovator in the vacation rental industry since 2010, with a mission to redefine the customer journey for guests, hosts and managers and to drive new approaches that make the booking experience more consistent, easier, safer and better for all. The company is profitable, rapidly growing, and backed by Silversmith Capital Partners.
For more information on RedAwning or Redawning services, please visit http://www.redawning.com/list/propertymanagers
ABOUT HOLIDU
Holidu is a leading global search engine for vacation rentals. With the mission of simplifying finding and booking the right holiday home, Holidu scans millions of vacation rentals from hundreds of travel sites with one click. The search engine uses proprietary image recognition technology to compare prices across multiple websites, enabling savings of up to 55% on a given accommodation. Headquartered in Munich, Holidu was co-founded by brothers Johannes and Michael Siebers in 2014. For more information, visit http://www.holidu.com