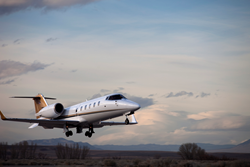 The benefits our Jet Card program provides are incomparable to anything else out there.
LONG ISLAND, N.Y. (PRWEB) April 16, 2018
Luxury Aircraft Solutions, Inc. recently announced that they will be offering five-hour Jet Cards for clients looking for additional options when it comes to chartering private jet flights.
The charter broker first announced the start of their Jet Card program in early 2016 with the unveiling of their new website. In order to meet the needs of clients who may be newer to private flying, and to provide alternative options for those just looking to test the program out, Luxury Aircraft Solutions made the decision to expand their Jet Card program by offering the option to purchase fewer hours upfront.
"We're very excited to give people the opportunity to try out our Jet Card program by purchasing a five-hour jet card with no membership fees," said Daniel Hirschhorn, Managing Director of Luxury Aircraft Solutions. "The benefits our Jet Card program provides are incomparable to anything else out there; we offer a wide array of perks that other companies don't include with their programs. For example, hours never expire. We also offer the widest selection of aircraft available with no fees to change aircraft category, so cardholders know they can charter the exact type of plane they want for each individual trip."
By purchasing a Jet Card, clients receive consistent hourly rates, one-way guaranteed pricing and have the most flexibility when it comes to travel plans. Cardholders also receive an exclusive 15 percent discount on all round-trip journeys with two or less overnights, and funds can be used towards any flight. There are no exclusions and pricing is fully inclusive; there are no extra fees or charges. Additionally, clients are able to book more than one flight at once.
While similar card programs offered through charter brokers will typically have a one or two-year deadline to use purchased hours, the hours purchased through the Luxury Aircraft Solutions Jet Card program never expire. Additionally, if members are ever unhappy with the program for any reason, their unused hours are completely refundable.
"Customer satisfaction is our top priority," Hirschhorn added. "We also guarantee aircraft availability for our Jet Card members, even during peak travel times, which is a huge benefit."
As opposed to Jet Cards sold in denominations of dollars, Jet Cards sold in denominations of flight time are often the perfect choice for travelers who like to keep track of their available flight time and prefer one category of aircraft when they fly. Travelers purchasing five-hour Jet Cards can choose from turboprop planes, light jets, midsize jets, super midsize jets and heavy jets. Pricing for five-hour Jet Cards ranges from $21,260 for turboprop planes to $56,150 for heavy jets and include Federal Excise Tax (FET).
Prospective clients looking for more information on the Luxury Aircraft Solutions Jet Card program can download their brochure on the web.
Based in Long Island, New York, Luxury Aircraft Solutions has operated in the private aircraft industry since 2011. The private jet charter broker services a wide range of clientele, and offers a large selection of private aircraft for both business and leisure travelers. From helicopters to jumbo jets and everything in between, Luxury Aircraft Solutions is the perfect match for both domestic and international travelers.
###
To learn more about Luxury Aircraft Solutions, please contact Daniel Hirschhorn at 1(631) 676-7488 or send an email to Daniel@LuxuryAircraftSolutions.com. Visit Luxury Aircraft Solutions on the web at http://www.luxuryaircraftsolutions.com