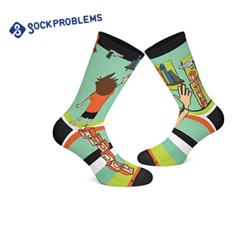 "Send these socks to your Senators or to yourself. Every bit counts and every pair helps Make Schools Safe." -Lori Alhadeff, the mother of Alyssa Alhadeff, a victim of the Parkland shooting
CARLSBAD, Calif. (PRWEB) April 17, 2018
Sock Problems, a San Diego based company dedicated to "socking" world problems, has launched an Indiegogo campaign with a noteworthy and timely goal—to 'sock' gun violence. This campaign is a direct response to the 300 US school shootings that have occurred over the last half decade.
Through an Indiegogo campaign, Sock Problems is giving those who walk, march or demonstrate the desire to sock gun violence a tangible tool that helps them express how they feel. 25% of every single purchase from this campaign goes back to support the organization, Make Schools Safe, an organization started after the Parkland High School shooting with a mission to address gun violence efforts now.
Make Schools Safe aims to make schools safe for all, and was founded by Lori Alhadeff, the mother of Alyssa Alhadeff, a victim of the Parkland shooting. Alhadeff is passionate about addressing safety in schools and shared, "Send these socks to your Senators or to yourself. Every bit counts and every pair helps Make Schools Safe."
Sock Problems reached out to teachers across the nation asking their students to participate in the creation of a sock. They also requested student submissions through social media channels to reach as many students as possible.
Students from all over the United States submitted designs. The team chose the top 4 sketches based on concept, colors, attention to detail and messaging. The winning design came from Paulina Markowski, a sophomore from Union High School in Union, New Jersey. Her concept posed a choice for a young boy climbing up alphabet blocks that spelled 'E N O U G H'.
"Through this contest, students were able to speak through their art, and share their voices through artistic abilities," said Nicholas Ferroni, who is Markowski's high school History teacher. Ferroni, a former actor who transitioned to teaching, is an esteemed educator, writer and activist with a deep commitment to mentoring lower-income students.
The team also received feedback from Marjory Stoneman, a Douglas high schooler and activist Delaney Tarr.
By launching Sock Guns on Indiegogo, Sock Problems provides supporters varying ways to engage in their efforts to "sock" gun violence. The Indiegogo campaign offers those who passionately participate the opportunity to:

Join the movement by standing proudly, walking, and marching in the Sock Guns socks
Donate pairs to students in solidarity
Send socks (and a fairly poignant message) to state Senators in protest
"Sock Problems is dedicated to bringing awareness to the issue of gun violence in a bold way," said Ryan Berman, Founder of Sock Problems. "We wanted students to be able to express their own concerns for school safety with a radical sock design that can be shared with classmates, families, those marching, and even Senators."
Sock Problems is centered around four core values: Giving, Transparency, Conquer, and Playfulness. Results of their impact with the Sock Guns campaign will also be shared on their website for ultimate transparency.
To learn more about Sock Problems, affiliated organizations, or to purchase a pair, visit http://www.sockproblems.com and the Indiegogo campaign.
About Sock Problems
Sock Problems, LLC is a for purpose company that "socks" problems in the world with cause-centric socks. Sock Problems aims to transform every day purchases into a force for change. Sock Problems offers high quality, playful socks to passionate consumers. Sock Problems, a pending B Corp, combines people's dedication for solving the world's problems with their need for socks and their desire to express themselves with this daily accessory. http://www.sockproblems.com
Media Inquiries:
Elisette Carlson
SMACK! Media
Elisette@smackmedia.com
858-735-2711