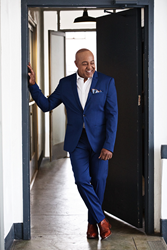 "It has been an honor to develop this project with Peabo Bryson," said Jimmy Jam and Terry Lewis. "You can always expect quality, class and integrity in his music and performances. To work with him and see his execution first-hand has been a privilege. We're very excited about this project."
Nashville, Tennessee (PRWEB) April 14, 2018
GRAMMY® award-winning recording artist, Peabo Bryson, unveiled the release of his brand new single, "Love Like Yours and Mine" this week from his highly-anticipated LP scheduled for release later this summer. Peabo Bryson is counted among the world's most dynamic and gifted vocal talents. With the debut of Love Like Yours And Mine, as the number one most added song at UAC radio, Peabo Bryson continues to delight fans eager to hear from him. As a world-renowned balladeer, his award-winning career includes two GRAMMYs®, two Oscars®, multiple gold albums, multiple #1 songs and chart-topping singles in R&B, Pop and Contemporary Jazz.
The new single, "Love Like Yours And Mine," received world premiere exposure on the nationally syndicated iHeart D.L. Hughley radio show as well as the nationally syndicated Tom Joyner show. Available now on all digital outlets worldwide, the song celebrates Peabo's place in music as a stellar vocalist and performer. The celebrated singer, songwriter, producer and musician has evoked heart-felt memories for fans from multiple generations and wowed audiences over the years with hits that he either performed, wrote or produced - including, "I'm So Into You," "Feel the Fire," and "If Ever You're In My Arms Again. The Oscar® winning Disney classics "Beauty & The Beast" and "A Whole New World (Aladdin's Theme)" sit amongst the top ten selling Disney songs of all time.
With the release of new music, Peabo has announced an early list of performances, with more to be added to his schedule:
-April 20, 2018 - Houston, TX
-April 21, 2018 - Seabreeze Jazz Festival (Panama City Beach, FL)
-May 25, 2018 - Music City Jazz Festival – Nashville Public Square Park (TN)
-June 1, 2018 - Birmingham, Alabama
-June 8, 2018 - Celebration of Black Music - Hyatt Regency Cincinnati (OH)
-June 17, 2018 - Stern Grove Festival (San Francisco, CA)
-July 20, 2018 - Microsoft Theater- Los Angeles, CA
-August 1, 2018 - Chene Park Amphitheater (Detroit, MI)
-August 3, 2018 - Hartford, CT
-September 2, 2018 - Mable House Amphitheater (Atlanta, GA)
-September 14, 2018 - Dallas, TX
-October 6, 2018 - Las Vegas, NV
-October 10, 2018 - Terry, GA
-February 17, 2019 - Kingston, Jamaica
"It has been an honor to develop this project with Peabo," said Jimmy Jam and Terry Lewis in a joint statement. "You can always expect quality, class and integrity in his music and performances. To work with him and see his execution first-hand has been a privilege. We're very excited about this project."
"I believe in creating music that feels good, that makes people feel something and feel good," said Bryson. "Musically, I'm in a very good place and the creative process, for this project truly provided an opportunity to come back to my love for singing."
The new single, "Love Like Yours And Mine," serves as the lead single from his upcoming project and is another amazing example of why Peabo's career has endured, for many years and provides fans with another reason to call him the 'best friend a good song has ever had.'
DOWNLOAD/STREAM NEW PEABO MUSIC:
Peabo's single, Love Like Yours And Mine can be found here: https://PeaboBryson.lnk.to/LoveLikeYoursAndMine
Learn more about Peabo by visiting http://www.therealpeabobryson.com or connecting via social media on Twitter (@PeaboBryson2) or Facebook (@PeaboBrysonOfficial).
ABOUT PERSPECTIVE RECORDS
"Love Like Yours and Mine" is released on the Jam & Lewis helmed Perspective Records distributed by Caroline.