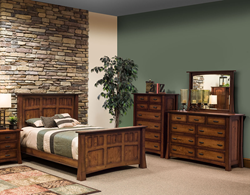 We are excited to offer our clients the latest style offerings and great savings.
Shipshewana, Indiana (PRWEB) April 14, 2018
Brandenberry Amish Furniture of Shipshewana, Indiana, is hosting a Spring Sale on April 13, 14 and 16, 2018.
Special sale prices on furniture items include up to 70 percent off discontinued floor models, $100 off any TV cabinet, 20 percent off Flexsteel furniture and 15 percent off all Amish bedroom furniture.
Mattresses are also on sale, with full-size mattresses starting at $199. In addition, Brandenberry is offering 20 percent off accessories, framed art and pictures. Also, customers can sign up and win a prize.
Brandenberry Amish Furniture is located at 1045 N. State Road 5 in Shipshewana, at the intersection of State Road 5 and US 20, near the Indiana Toll Road. The store is open Monday through Saturday from 9 a.m. to 5 p.m. and by appointment.
About Brandenberry Amish Furniture:
Brandenberry Furniture opened its doors in 2008. The Brandenberry Furniture concept allows customers to design the furniture of their dreams…to explore the rich woods and stains that only nature can offer. Nothing matches the feel, the smell and the weight of hickory, oak, cherry, maple…real woods that come to life in an Amish handcrafted piece. They are meant to last a lifetime and beyond.
Whether a customer's favorite style is Mission, Traditional, Modern or something in between, if Brandenberry Furniture doesn't carry it, their craftsmen will build it to specification.
Brandenberry Furniture offers everything from bedroom and dining collections to home accessories, patio and exclusive furniture pieces. Browse our easy-to-use website with detailed photographs and information, and you'll find furniture categorized by room (including family room, dining room, bedroom, office, children's) as well as by wood species (including oak, hickory, cherry, elm, maple, pine and cedar) and style.