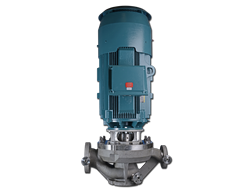 Midstream operators are investing heavily in pipelines and processing equipment, and Sundyne's technology plays a key role within this infrastructure.
ARVADA, Colo. (PRWEB) April 16, 2018
Sundyne, a global leader in the design and manufacture of pumps and compressors, today announced that it is showcasing its portfolio of midstream gas processing technology at this week's GPA Midstream Convention in Austin.
"The abundance of natural gas discoveries in the Permian Basin are creating new opportunities for chemical & petrochemical feedstocks, and for using gas as a dominant source in power generation - plus advancements in LNG processing are cultivating export opportunities to reach new customers around the globe," said Sundyne's Jason Fouraker. "In order to capitalize on these opportunities, midstream operators are investing heavily in pipelines and processing equipment, and Sundyne's technology plays a key role within this infrastructure."
At the GPA Midstream Convention this week, Sundyne is illustrating the role its technology plays in natural gas processing:
1. Sundyne's Sealless Magnetic Drive API 685 and ANSI B73.3 pumps are widely used in Hot Oil and Amine treating applications that remove hydrogen sulfide and carbon dioxide from natural gas.
2. Sunflo high pressure pumps are popular for reflux applications with low NPSH requirements.
3. Sundyne's integrally-geared centrifugal compressors are used for Molecular sieve regeneration, overhead, and demethanizer applications, which strip out NGLs (such as butane, propane and ethane) from gas streams.
4. Sundyne LMV-803Lr OH3 and OH5 process pumps, as well as API 685 sealless magnetic drive pumps are used for bottoms pumps, booster pumps, and for transferring light hydrocarbons.
"The design elements that Sundyne is known for – multi stage performance in a single stage design; unmatched low flow, high head output; stainless steel & higher alloy construction; safe sealless magnetic drive pumps that don't leak; and a proven track record for minimal maintenance – are all critical features for midstream applications," concludes Jason Fouraker.
To learn more about Sundyne's Midstream product portfolio, please visit: http://sundyne.com/Products/Pumps/Markets/Midstream-Natural-Gas.
About Sundyne:
Headquartered in Arvada, Colorado, Sundyne is a leading manufacturer of highly reliable and efficient centrifugal pumps and compressors for use in oil and gas production, refining, chemical, petro-chemical, power generation and water processing industries. Sundyne is the world leader in delivering low-flow, high-head integrally geared centrifugal pumps and compressors; as well as safe and efficient sealless magnetic drive pumps. Sundyne pumps and compressors meet stringent API and ISO standards. To learn more about the Sundyne family of precision engineered pumps and compressors, please visit http://www.sundyne.com. Sundyne is owned and operated by Accudyne Industries.
About Accudyne Industries:
Accudyne Industries is a global provider of precision-engineered flow control and compressor systems responsible for powering the world's most economically vital industries. These process-critical machines deliver unflagging performance in incredibly demanding environments, giving confidence to the mission of their customers. Today, Accudyne is powered by more than 2,800 employees at 13 manufacturing facilities. For more information, visit http://www.accudyneindustries.com.