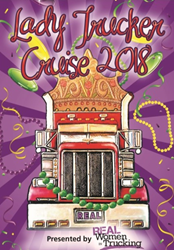 LAKE WORTH, Fla. (PRWEB) April 18, 2018
An award-winning film team will attend a seven-day women truck drivers event to begin work on a documentary that, together the filmmakers, hopes to engage with female professional truck drivers to shed some light on issues concerning women in trucking today, and to get a glimpse of the community cultivated by the REAL Women in Trucking organization.
On the team is Nesa Azimi, producer and director, Victor Tadashi Suarez, director of photography, and Mimi Wilcox, filmmaker and editor.
Nesa Azimi, is an Emmy award-winning filmmaker who comes from a documentary background, having worked on over a dozen films for PBS Frontline, National Geographic and Fault Lines on Al Jazeera English.
Victor Tadashi Suarez is a five-time Emmy-nominated director of photography and has filmed over forty documentary films for PBS Frontline, National Geographic, and Fault Lines on Al Jazeera English.
Mimi Wilcox is a filmmaker and editor who has worked on several broadcast and independent documentaries for PBS, National Geographic and Oscar and Emmy award-winning Kartemquin Films; her work has appeared in film festivals across the country.
All are welcome to this event, the Lady Truck Driver Cruise for the second year brings relevant and vital information to the professional driver community combined with a dignified "Queen of the Road" award ceremony aimed at honoring women who have worked as truck drivers.
The cruise departs from the Port of New Orleans for a 7-day sailing into the Western Caribbean, professional drivers who wish to attend still have time to book passage or meet the group before they leave during the May 19, 2018 Bon Voyage pre-cruise event get together in the French Quarter.
REAL Women in Trucking's efforts are being strongly supported though sponsorship, as well trucking industry professionals who assist in bringing much needed information to all.
Individuals who wish to become part of this once in a lifetime opportunity still have time to book their reservations. Information is available on the Lady Truck Driver Cruise section of the REAL Women in Trucking, Inc. website, where you can learn more about other scheduled Speakers and Highlights that are planned for this event.
For queries regarding the documentary, contact the filmmakers directly for the Lady Truck Driver Project or email
info@realwomenintrucking.org