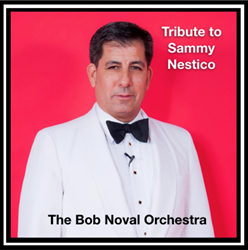 "It only seemed fitting that our orchestra would assemble a project that encompassed our favorite Sammy Nestico charts. He not only was a family friend but one of the best composer/arrangers in the history of big band jazz"
LOS ANGELES (PRWEB) April 16, 2018
The Noval Family has etched its mark in the music books of the giants of Big Band Swing. It dates back almost eight decades from its original leader Ray Noval who was responsible for starting this family tradition to his brother Pat joining him in the early fifties. They continued together through the 60's and 70's until Ray passed away in 1988. Pat kept the momentum of his heritage by playing with different bands across the country.
He frequently played with the Ray McKinley Orchestra, the Gus Bivona Orchestra, Claude Gordon, and the Fabulous 40's Orchestra. Pat has played with Bob Hope, Joey Bishop, Dezi Arnaz, Dick Shawn, Milton Berle, Gordon McCrea, Jimmy Durante, the Pied Pipers, Vaughn Monroe, Ray Eberle, Connie Haines and The Four Freshmen. As early as 1976, Bob and Pat were acquiring "charts" (arrangements of musical numbers) of some of the greatest names in the big band era. Thanks to their efforts, The Bob Noval Orchestra repertoire includes classics made famous by such icons as Glenn Miller, Benny Goodman, the Dorsey Brothers, Artie Shaw, Harry James, Duke Ellington and Count Basie whom many played and recorded many of Sammy Nestico's charts.
"It only seemed fitting that our orchestra would assemble a project that encompassed our favorite Sammy Nestico charts He not only was a family friend but one of the best composer/arrangers in the history of big band jazz," says Bob Noval.
In the early 80's Pat's son Bob became his business partner and leader of the orchestra while his father sat proudly blowin' in the sax section. Not only do they include the charts of the great swing bands of our time, but it echoes the sound of an era that is a testament to the talent of the noted musicianship who are alumni of many of those bands. Having the honor of performing for presidents, ambassadors and the elite of society as well as special events, concerts, festivals, fundraisers, corporate events, grand openings, community affairs, weddings and anniversaries.
The orchestra is known as a Swingin' big band that plays the arrangements from the 30's, 40's, and 50's who also include contemporary charts in its repertoire.
"The Bob Noval Orchestra is a swinging big band that would compliment any event." It reminds me of many great memories in jazz", says Jaijai Jackson of The Jazz Network Worldwide.
Be sure to check out the Bob Noval Orchestra's feature on The Jazz Network Worldwide http://thejazznetworkworldwide.com and their new website at http://bobnovalorchestra.com to learn more and purchase.
For bookings contact Bob Noval at bob@bobnovalorchestra.com or 661-904-1528.
##
Follow the Bob Noval Orchestra:
Facebook: https://www.facebook.com/profile.php?id=100009130307679&lst=573721052%3A100009130307679%3A1523735020
Twitter: https://twitter.com/Bob_Noval