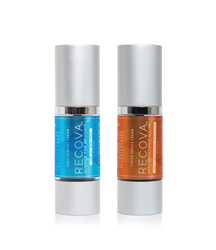 As a physician interested in holistic health, it is important for me to address post-surgery care as an important part of preparing for surgery
(PRWEB) April 17, 2018
Nisha Bunke, M.D., scientist, inventor and CEO of La Jolla Vein Care announced today the launch of two all-natural, post-surgery products, RECOVA® Surgery Cream and RECOVA Tinted Arnica Cream. RECOVA was developed over an eight-year period to help patients heal more effectively after vein surgery. Based on clinical experience, the merits and benefits of the ingredients, as well as feedback from patients and doctors over the years, Dr. Bunke created a powerful blend of nine all-natural ingredients (including extracts from pineapple, sunflower oil, grapeseed, arnica, butcher's broom, and coconut) that would work with sensitive skin and support recovery after surgery.
Patients using RECOVA products experience reduced pain, swelling and bruising after treatment. In addition, the tinted arnica product can conceal bruising, especially in highly visible areas, while providing soothing relief. Previously only sold at La Jolla Vein Care, RECOVA products are now available for sale to the public.
"As a physician interested in holistic health, it is important for me to address post-surgery care as an important part of preparing for surgery," said Nisha Bunke, M.D., creator of RECOVA. "These products were in high demand from my patients who wanted a soothing remedy and quick healing after surgical vein procedures. What we discovered is that the RECOVA creams can be used to relieve a much broader variety of minor outpatient and cosmetic surgical procedures, as well as bruising in general."
Dr. Bunke is a respected expert who runs the highest volume vein clinic in San Diego. With her vast network of physicians, she has introduced RECOVA to patients who have had a variety of cosmetic/plastic surgical procedures including botox injections, fillers, sclerotherapy, laser treatments, and liposuction.
Both RECOVA products are created in San Diego, formulated and manufactured in the USA, and are free of parabens, synthetic dyes, and color additives, and never tested on animals. The RECOVA Post-Surgery Cream, original formula is $78 for 1oz, and the RECOVA Tinted Arnica Cream is $92 per 1oz, and available for purchase online.
To learn more about RECOVA, please visit recovacream.com
About RECOVA
Headquartered in San Diego, CA, RECOVA® is the creation of Dr. Nisha Bunke, a leading vascular physician who specializes in minimally invasive procedures for varicose veins. Inspired by the desire to promote healing and reduce bruising after surgery for her patients, Dr. Bunke sought to create a safe recovery cream that leveraged the healing power of natural ingredients. Over the years, she has collaborated with pharmaceutical scientists to create the perfect solution. Based on clinical experience, as well as patient and physician feedback over eight years, Dr. Bunke and her team created a powerful blend of natural ingredients to support recovery and nourish the skin after vein surgery. For more information, please visit http://www.recovacream.com
About Dr. Nisha Bunke, Founder
Dr. Nisha Bunke, M.D., FACPh, RPhS, is a physician, scientist, and inventor, actively leading clinical research studies in the field of venous disease. In 2010, Dr. Bunke founded La Jolla Vein Care while also remaining on staff at the University of California San Diego (UCSD) Healthcare System, working at the Veteran's Healthcare System La Jolla, and serving as a Volunteer Clinical Instructor at UCSD School of Medicine. Working with vascular surgeon Dr. John Bergan, Dr. Bunke was awarded the 2008 JOBST Research Award for the Advancement of Phlebology for research on Inflammatory Bio-Markers of Venous Insufficiency. In 2009, Dr. Bunke was awarded the Internationale Union of Phlebologie Research Fellowship and the Best Young Presenter Award in Monaco. With numerous publications in scientific journals and medical textbooks, Dr. Bunke is the co-editor of The Vein Book—the authoritative textbook for physicians. The Vein Book is published by the Oxford University Press and covers more than 600-pages on vein conditions. Her second book for non-medical professionals, Are We Just Being Vein? is expected to be released in Summer of 2018.