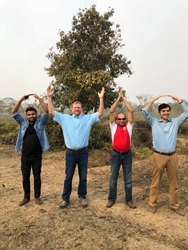 Transparent, mutually beneficial relationships are the hallmark of the Crimson Cup mission.
COLUMBUS, Ohio (PRWEB) April 16, 2018
Buyers from Columbus coffee roaster Crimson Cup Coffee & Tea recently visited Kazi & Kazi Tea Estate Ltd. in Bangladesh to explore a sustainable new source of teas. Teas and herbs grown on the plantation hold Fair Trade, Rainforest Alliance and USDA Organic certifications.
"This lush organic estate grows teas and herbs of incredible quality," said Crimson Cup Founder and President Greg Ubert. "We were impressed by their commitment to sustainable operations – protecting the environment and caring for workers and their families."
Ubert and 7 Steps Trainer Steve Bayless were accompanied on the trip by Senior Director Zia Ahmed and Assistant Director Rahul Ponappa of the Ohio State University, Office of Student Life, University Dining Services. Crimson Cup teas and coffee are served on the university's campus.
"Since we view Zia and Rahul as partners, we wanted to invite their input before introducing new sources into our supply chain," Ubert said. "Transparent, mutually beneficial relationships are the hallmark of the Crimson Cup mission."
The visitors were impressed by the quality and productivity of the estate, which was created on barren, previously uncultivated land in 2000. The natural, organic farming methods it uses include Neem based bio-pesticide and cow dung based fertilizers.
"We are in the process of evaluating samples for our team to use in developing new regular and herbal teas," Ubert said. "Our goal is to begin introducing new tea innovations later this year."
About Crimson Cup Coffee & Tea
Columbus, Ohio coffee roaster Crimson Cup Coffee & Tea is Roast magazine's 2016 Macro Roaster of the Year. Since 1991, Crimson Cup has roasted sustainably sourced specialty and craft coffee in small batches, which it sells directly to consumers and as wholesale coffee beans. The company also teaches entrepreneurs to run successful coffee houses through its coffee franchise alternative program, which includes a coffee shop business plan. Crimson Cup coffee is available through a community of more than 350 independent coffee houses, grocers, college and universities, restaurants and food service operations across 36 states, Guam and Bangladesh, as well as the company's own Crimson Cup Coffee Houses. To learn more, visit crimsoncup.com.