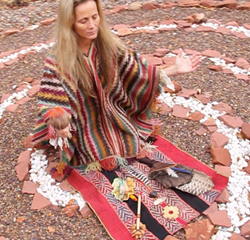 The Shamangelic Healing Journey is an insightful and powerful inward journey that empowers you to release your fears, love with your heart and reclaim your power.
Sedona, AZ (PRWEB) April 22, 2018
Shamanic healer and soul guide Anahata Ananda recently visited the top-rated Ben Greenfield Fitness Podcast to share insights about her signature Shamangelic Healing Journey. Together, they discuss everything from magic chocolate, holotropic breathwork, grounding, earthing, vortexes, crystals and more. Anahata is founder of Shamangelic Healing in Sedona, Arizona where she works with a diverse array of clients on issues ranging from spiritual awakening and finding life purpose, to clearing emotional wounds, improving relationships, maximizing health and more.
"The Shamangelic Healing Journey is an insightful and powerful inward journey that empowers you to release your fears, love with your heart and reclaim your power," said Anahata. "The two-hour session is tailored to address the core issues that are most relevant to the client at any given point in time."
The first hour of the session is a discovery process during which Anahata is looking at what is out of balance, where energy is leaking, and where the client has given their power away. She uncovers the repeating patterns behind the client's story and looks for the source of imbalance.
"During the discovery process, I am going to go into reflection, counseling and guidance. I look at the client's beliefs, where their energy is leaking, who the cast of characters are in their life, where they may be in victim mode and offer insights to help them shift their perspective," she said.
The second-hour of the session is a participatory Shamangelic Healing Journey that is tailored to each client. Anahata utilizes a combination of Shamanic tools, energy healing techniques, guide visualizations, essential oils, vibrational sound and clairvoyant spiritual guidance to orchestrate transformational healing and activation.
"When I walk into the healing room, it is a blank slate. I will have received insights and perspective, and maybe a spirit guide comes in. I am listening to Divine guidance—I am a conduit for the healing journey that unfolds uniquely for each client," said Anahata.
During the hour-long podcast, Anahata and Ben also explore the history and mystical energy of Sedona's vortexes, holotropic and Shamangelic breathwork, and the increasingly popular but sometimes dangerous explorations into Ayahuasca ceremonies and other plant medicines. Listen to the podcast to learn more.
Anahata Ananda has trained extensively with gifted shamans, energy healers and spiritual teachers from around the world to artfully integrate the fields of spirituality, energy healing, self-empowerment and shamanic teachings. Her client-base spans the globe with individuals from all walks of life who are seeking to heal and awaken to their fullest potential.
Ben Greenfield hosts the highly popular fitness, nutrition and wellness website BenGreenfieldFitness, a site with over a quarter million monthly visitors that features blogs, podcasts, and product reviews. Author of the New York Times Bestseller Beyond Training and the Christian Gratitude Journal, Ben's balanced approach to fitness, nutrition and health comes from his extensive experience in the fitness and wellness industry as one of the country's leading personal trainers and wellness consultants.
Anahata offers a variety of Shamangelic Healing services year-round in Sedona, Arizona including private sessions, sacred land journeys and training courses that incorporate Shamanic teachings and other energy healing modalities. She also offers Tailored Retreats for individuals, couples and small groups that can include a combination of offerings based on various needs and areas of interest.
Shamangelic Healing is a premier center for Shamanic healing and spiritual awakening in Sedona. It is nestled beneath Thunder Mountain with breathtaking views and within walking distance to a medicine wheel and healing vortexes, making it the perfect setting for healing and expansion.
For detailed descriptions and a calendar of all training courses and spiritual awakening services offered by Anahata visit http://www.shamangelichealing.com/