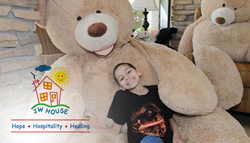 We believe that having a support system close can make a difference for all kinds of patients, and we hope our community will join us in supporting this event
SAN JOSE, Calif. (PRWEB) April 18, 2018
Robert Varich, owner and chief executive of Pinnacle One Insurance Services in San Jose, California, is working with local community leaders to help provide support to families of hospitalized patients in the region. Funds raised during the event are earmarked for use by JW House, a nonprofit group that offers temporary housing for families of those receiving critical care.
"We believe that having a support system close can make a difference for all kinds of patients, and we hope our community will join us in supporting this event," said Varich.
The Varich team will also be issuing donations to the charity utilizing a community referral system. For every person referred into Pinnacle One Insurance to receive a complimentary insurance appraisal, Varich has pledged to make a direct contribution benefitting JW House.
Additional information on how to help support the charity campaign has been provided here: http://pin1ins.com/rewards/.
About Pinnacle One Insurance
Pinnacle One Insurance's team mission is to provide the best insurance and financial services in the industry. Their number one job is to protect the assets for which their customers have worked so hard, and to help them invest so they may retire in comfort. Pinnacle One's success is measured by customer satisfaction and the added value brought to their lives. To reach the capable and caring agents at Pinnacle One Insurance, visit http://www.pin1ins.com/ or call 408-257-1234.