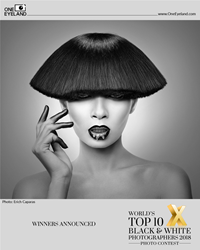 (PRWEB) April 18, 2018
Black & White Photography is an ocean. Identifying the pearls takes some very deep diving. One Eyeland, the world's finest online gallery of creative photographs, has just completed the mission through its photo contest to judge the TOP 10 Black & White Photographers in the world.
An international jury of acclaimed photographers comprising  Astrid Verhoef (Netherlands), Howard Schatz (USA), Thiery Bornier (China), Lennette Newell (USA), Lisa Saad (Australia), Pedro Jarque Krebs (Peru), Rosario Civello (Italy), and Sharad Haksar (India), adjudged close to 2000 entries and identified the coveted winners in 24 categories ranging from Abstract to Wild Life Black & White Photography. 
In all, photographers from 49 countries were awarded. And 18 Golds, 79 Silvers, 146 Bronzes and 245 Finalists were handed out. From among the worthiest of these worthies, the jury then named the World's Top 10 Black & White Photographers for 2018. They are as follows:
1. ERICH CAPARAS, United States
2. JACK CURRAN, United States
3. TREVOR COLE, Ireland
4. THIERRY BORNIER, China
5. TIM BOOTH, United Kingdom
6. GIULIO ZANNI, Italy
7. ALEXANDER KAMAKAEV, Russia
8. FRANCISCO NEGRONI, Chile 
9. MARCEL REBRO, Slovakia
10. ADOLFO ENRIQUEZ, Spain
Erich Caparas of the United States, by virtue of topping the table, was crowned as the Grand Prize winner. And he gets the cash prize of USD 2500.