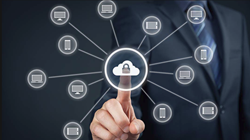 Our goal is to protect your data and devices from a breach that could compromise you and your business.
SALT LAKE CITY (PRWEB) April 17, 2018
Spearstone today announced the addition of enterprise deployment options to their DriveStrike line of products. It protects mobile devices and traditional computers by enabling administrators to execute remote actions, including wiping, disabling or locking them if they are lost or stolen. DriveStrike currently supports Windows, Apple MacOS & iOS, and Android devices, with Linux support planned for release later this year.
"Increasingly our phones hold personal and company email, contacts, photos and other sensitive data, the risks associated with loss or theft of a device are devastating," said Dale Goddard, Spearstone COO. "Our company's primary goal is to protect the data on devices and give our customers overall confidence in the security of their computing devices."
DriveStrike protects a computing device that is lost or stolen by enabling users to execute remote wipe from the DriveStrike website or by calling the hotline to initiate protective measures. The device is then instructed to wipe itself and return a report so that the customer knows it has been carried out successfully. DriveStrike runs a lightweight service on the device, which watches for these remote commands.
Other DriveStrike features include, Remote Lock, which forces the device to lock and Locate, which queries the device for its current location.
DriveStrike is available for less than $1.00 per device per month when protecting 10 or more devices. To take advantage of this offer or for more information, visit http://www.drivestrike.com or call (877) 375-2468.
About Spearstone
Spearstone, 2008 Digital IQ award recipient for IT Security, is a software product development company in Salt Lake City with enterprise customers that include Wells Fargo, iTV, Pearson Learning, Logitech, Spacelabs, Sony, Estate Guru and RemedyMD. Spearstone's DriveStrike product provides data breach protection for computers and smartphones, including hardware theft retrieval, remote wipe, mobile device management, and geo-location services. DriveStrike SaaS makes feature-rich data protection solutions easy and affordable for businesses and consumers alike.
Contact:
For more information, contact Spearstone at 877.375.2468 or info(at)spearstone(dot)com
Connect with us:
On Twitter
On Facebook