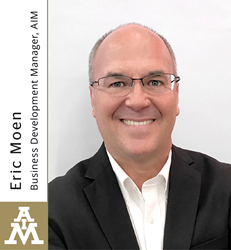 CRANSTON, R.I. (PRWEB) April 16, 2018
AIM Solder, a leading global manufacturer of solder assembly materials for the electronics industry, is pleased to announce the appointment of Eric Moen to the position of Business Development Manager.
With a Bachelor of Science in Business Administration in Marketing and more than 20 years of business management experience in the electronics assembly industry, Mr. Moen brings a unique offering and perspective to AIM's existing and prospective customers. His years of experience working with global companies in assembly equipment, stencil production, and AOI/AOXI inspection and metrology will be of great value as he communicates AIM's unique products, technical support, and service to the industry.
As AIM's Business Development Manager, Mr. Moen will be responsible for the development, maintenance, and expansion of product sales to multinational customers throughout the world. He will work to secure the sales of the company's products globally through industry and customer engagement, market research and analysis of market needs and competitive trends, and the development of promotional strategies.
"With his extensive experience, Eric brings a customer-focused approach that will further strengthen AIM's efforts as we continue to grow," said AIM's Executive Vice President, David Suraski. "This is a very important and exciting hire for the company as we continue to expand our global footprint."
About AIM
Headquartered in Montreal, Canada, AIM Solder is a leading global manufacturer of assembly materials for the electronics industry with manufacturing, distribution and support facilities located throughout the world. AIM produces advanced solder products such as solder paste, liquid flux, cored wire, bar solder, epoxies, lead-free and halogen-free solder products, preforms, and specialty alloys such as indium and gold for a broad range of industries. A recipient of many prestigious SMT industry awards, AIM is strongly committed to innovative research and development of product and process improvement as well as providing customers with superior technical support, service and training. For more information about AIM, visit http://www.aimsolder.com.
Upcoming Events:
April 24 – SMTA Empire – Holiday Inn Syracuse, Liverpool, NY
May 9, 2018 – SMTA Wisconsin Expo – Milwaukee Crowne Plaza, Milwaukee, WI
May 15, 2018 – SMTA Carolinas – DoubleTree Raleigh Brownstone, Raleigh, NC
May 22, 2018 – SMTA Michigan – Laurel Manor, Livonia, MI