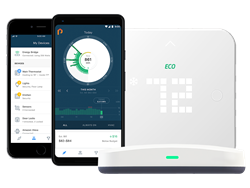 We're [Z-Wave Alliance] excited to see Powerley positioned as the first platform in the Home Energy Management industry to integrate both Z-Wave and the Z-Wave S2 Security protocol.
ROYAL OAK, Mich. (PRWEB) April 18, 2018
Powerley, today announced it has become the first Home Energy Management company globally, to implement the next-generation of Z-Wave technology. The Powerley Home Energy Management platform features Z-Wave Plus certification as well as the Z-Wave S2 Security framework, built from the ground up, for a more secure connected home experience. Along with this, the Z-Wave Plus certification enables plug-n-play connectivity, ensuring installation of a Z-Wave smart device is no more complicated than plugging it into the wall.
"By removing 'friction' from the experience, we are accelerating the adoption of the smart home and energy management," said Manoj Kumar, CEO of Powerley. "Working together with the Z-Wave Alliance, Powerley has delivered a utility-driven smart home experience that performs better, connects easier, and remains more secure."
With the Z-Wave Plus certification and the integration of the S2 framework, the next-generation of the Powerley Energy Bridge will enable utilities and their customers to take advantage of a host of benefits, including:

Plug-and-Play Installation: By making installation of smart home products easier through plug-n-play, Z-Wave and Powerley reduce the friction of smart product adoption.
Enhanced Security: Z-Wave S2 Security adds an advanced layer of security to both the home network and each device. Designed from the ground up, S2 includes best-in-class tools that enable the Powerley Energy Bridge to extend the highest level of protection to smart device and keep communication secure.
Improved Interoperability: Because of the increased interoperability between smart home devices, Powerley can be compatible with thousands of Z-Wave devices, including thermostats, switches, sensors, outlets and door locks.
Faster Connections: With an improved range of 67% and 250% more bandwidth, the Powerley Energy Bridge will connect to devices faster and easier than ever before.
Better Battery Performance: Through the reduction of wireless data transfer, smart device battery life improves by 50%.
"Energy management is a powerful use case for connected technology because it helps end users save money and create more sustainable ways to power technology and appliances," said Mitchell Klein, Executive Director of the Z-Wave Alliance. "We're excited to see Powerley positioned as the first platform in the Home Energy Management industry to integrate both Z-Wave and the Z-Wave S2 Security protocol, and their commitment to providing secure managed energy solutions for consumers and installers."
To learn more about Powerley, please visit powerley.com.
About Powerley
Powerley is the first company to integrate real-time Home Energy Management within a complete smart home solution. Built together with leading energy providers, Powerley enables utilities to provide an experience in which consumers can manage both their energy and their smart home devices through mobile, wearables and voice via Amazon Alexa. With a constant connection to the home's smart meter, Powerley provides real-time energy usage data for the whole home and every connected appliance and device within it. The turnkey platform is available to energy providers to offer a utility-branded experience to their customers.
About Z-Wave
Z-Wave technology is an open internationally recognized ITU standard (G.9959). It is the leading wireless home control technology in the market today, with over 2400 certified interoperable products worldwide. Represented by the Z-Wave Alliance, and supported by more than 700 companies around the world, the standard is a key enabler of smart living solutions for home safety and security, energy, hospitality, office and light commercial applications.
Z-Wave is a registered trademark of Sigma Designs (NASDAQ SIGM) and its subsidiaries in the United States and other countries.
About the Z-Wave Alliance
Formed in January 2005, the Z-Wave Alliance is a consortium of over 700 leading companies in the home technology space dedicated to solidifying Z-Wave as the standard for wireless smart home products. The principal members include: ADT, Alarm.com, ASSA ABLOY, FIBARO, Huawei, Ingersoll Rand Nexia Intelligence, Jasco Products, Leedarson, LG Uplus, Nortek Security & Control, SmartThings and Sigma Designs. Alliance members lead the home controls market, providing leading edge products and systems that deliver increased comfort, convenience, energy conservation, safety and security.