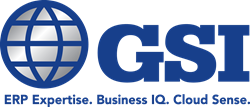 We will be focusing our efforts on educating decision makers and users on how to get the most out of JD Edwards and the Cloud.
ATLANTA (PRWEB) April 23, 2018
GSI is pleased to announce it will be exhibiting in Booth 317 at Collaborate 18, which is being held this year at the Mandalay Bay Resort & Casino in Las Vegas, Nevada on April 23-26. GSI will be hosting four (4) JD Edwards educational sessions at the conference, including topics covering upgrading to 9.2, one-click provisioning, cloud deployment and employee expenses.
GSI's educational sessions:

Case Study: Moving JD Edwards On-Prem to the Cloud While Upgrading to 9.2
Axletech JD Edwards+Oracle Cloud: Hybrid Approach to Modernization/Transformation
One-Click Provisioning ON-PREM: Automate JD Edwards E1 Upgrades, Updates & Code Currency
Baby You Can Drive my Car! (Car Allowances, Dues, & Other Employment Related Expenses)
For more details on GSI's sessions, times and locations, please visit GSI Collaborate 18 Schedule or stop by the GSI booth – 317.
"GSI is delighted to participate in our fourteenth consecutive Collaborate Conference, Collaborate 18, and like in years past, we will be focusing our efforts on educating decision makers and users on how to get the most out of JD Edwards and the Cloud. GSI will be providing expert resources in our booth and throughout the conference to address tactical and strategic questions from the JD Edwards community", said Kevin R. Herrig, President and CEO of GSI, Inc. "We are also honored to host four (4) educational sessions on topics including upgrading to EnterpriseOne 9.2, deploying JD Edwards in the Cloud, using JD Edwards One-Click Provisioning on-prem, and managing employee expenses."
About GSI, Inc.
GSI, Inc. (GetGSI.com) specializes in providing a broad spectrum of business, functional, and technical consulting services for Oracle JD Edwards, Oracle NetSuite, Oracle Cloud, Salesforce, ServiceNow and other enterprise applications. They also offer an extensive array of cloud/hosting solutions for Oracle Cloud, Amazon Web Services (AWS), Microsoft Azure and JDE Cloud9. GSI's comprehensive suite of solutions include AppCare, a 24/7 managed service; GENIUS, an advanced monitoring application; GENISYS, a solution for optimizing system performance; gShield, a comprehensive security solution; RapidReconciler®, its inventory reconciliation software; and JDE Cloud9, a complete cloud-based hosted service. GSI consulting services are backed by its signature 100 percent guarantee. Founded in 2004, the rapidly growing company is headquartered in Atlanta with locations nationwide. GSI, Inc. has been named to Inc. Magazine's Inc.5000 list of fastest growing companies for two consecutive years.