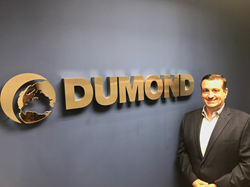 WEST CHESTER, Pa. (PRWEB) April 21, 2018
Dumond Chemicals Inc. has announced that Richard W. Grear IV has been pinned by the Board of Trustees to take the helm as the third president of its internationally renowned company, which manufactures cutting-edge products in the paint and coatings industry.
No stranger to the industry, Grear IV has served as the Vice President of Sales at Dumond Chemicals since 2011. With a 20+ year tailwind of experience in sales and leadership positions at high profile manufacturing companies, Grear has consistently delivered on double digit annual sales increases throughout his career.
"I am thrilled to have the opportunity to lead Dumond Chemicals into this exciting next phase of its history, which is executing our Global sales vision. My dream has been to connect with the best global partners in their markets and establish a seamless pallete distribution model across the globe," stated Grear. "I am confident that Dumond's commitment to world class employees, who put customer service and product innovation first, is the vehicle to drive our business and realize our global sales initiatives."
Since its founding in 1981, Dumond Chemicals Inc. has continually revolutionized the paint and coatings industry, on the principles of providing environmentally responsible products in a user-friendly, cost-effective manner. Headquartered in West Chester, Pennsylvania, Dumond Chemicals, Inc. creates innovative solutions in the areas of paint removal, stone and masonry care, graffiti control, and lead abatement/encapsulating products. Additional Dumond Chemical Inc. brands, including Smart Strip, Watchdog graffiti control products, Safe n Easy stone and masonry care, and Lead Stop products, are available through an international network of distributors, offering a complete solution for the DIY, professional, and industrial consumer.
For additional information, visit http://www.dumondchemicals.com or call +1 (609) 655-7700.