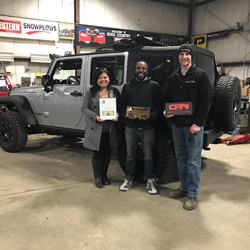 Chicago, Illinois (PRWEB) April 17, 2018
CPW Truck Stuff, a Chicagoland truck and Jeep custom installation shop located in Tinley Park, IL announced today the beginning of the second annual "No-Tax" sale on all vehicle accessories. The sale starts Monday, April 16, 2018 and lasts until April 21, 2018.
CPW Truck Stuff will pay customers taxes on all purchases with no limit. This tax-free sale was created to give some relief to local Illinois taxpayers who pay some of the highest taxes nationally.
Matt Muthart, Service Manager at CPW Truck Stuff stated, "This is our way to give back to our customers and community and just say thanks for supporting us. With so many Illinois residents leaving the state because of high taxes, we though a no-tax sale was the perfect event to have."
CPW Truck Stuff carries over 150 aftermarket products including floor liner, seat covers, lift kits, Tonneau covers, trailer hitches, LED lighting, truck toppers, suspension upgrades, truck bed liners, toolboxes, exhausts, and even work truck and van accessories.
Jennifer Wargowsky, Scheduling Manager at CPW Truck Stuff said, "We had a great turn out at last year's tax sale and we expect an even bigger crowd this year. This "No-Tax" sale is a good way to kick off our busy season and help our customers save some of their hard earned tax money."
Tinley Park It is one of the fastest growing southern suburbs south of Chicago with a population just over 50,00 and located roughly 20 miles south of Downtown Chicago.
Chicago-based CPW Truck Stuff is a subsidiary of Central Parts Warehouse. The business sells and installs tires, wheels, parts, and accessories for trucks, Jeeps, SUVs, and off-road vehicles. Among the brands carried are Fuel Offroad, Rough Country, Leer, Fabtech, Mickey Thompson, Nitto, Teraflex, Toyo and other top aftermarket accessory brands.