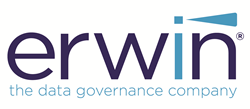 Over the past two years, we have turned this vision into reality -- transforming erwin from a popular software tool into a standalone company that is now positioned as a serious player within the data governance market.
MELVILLE, N.Y (PRWEB) April 17, 2018
erwin, Inc. is celebrating two years as a stand-alone software company, following private equity firm Parallax Capital Partners' acquisition from CA Technologies in April 2016. During the past 24 months, the company has completed three acquisitions, made significant investments in R&D, launched its EDGE data governance (DG) platform, and rebranded itself as "the data governance company."
"When Parallax completed its acquisition of erwin, we knew we had a tremendous foundation with the industry's number one data modeling solution to build upon, "said Adam Famularo, CEO, erwin, Inc. "Over the past two years, we have turned this vision into reality – transforming erwin from a popular software tool into a standalone company that is now positioned as a serious player within the data governance market."
The company has made three acquisitions: enterprise architecture (EA) company Corso, business process (BP) modeling company Casewise, and data harvesting technology and data governance (DG) consulting services company A&P Consulting.
These acquisitions, along with significant investment in R&D across three continents, have culminated in a unified software platform centered around data governance with integrations to EA, BP and DM. The erwin EDGE creates an 'enterprise data governance experience' to deliver on the Data Governance 2.0 imperative: the collaboration of IT with the business to produce data-driven insights that lead to agile innovation and business transformation while ensuring regulatory compliance.
The company also released erwin DM NoSQL, the first and only enterprise-class solution to provide native (non-relational) data modeling for document databases, automating the creation of platform-specific deployment scripts, to strengthen data governance. The solution was named a DBTA Trend-Setting Product for 2018.
"It has been said that data is the new oil," continued Famularo. "However, if organizations don't know where their data is, who is accessing it, and ensuring that it is governed and secure it can lead to the next major 'oil' spill – threatening non-compliance with regulations like the upcoming General Data Protection Regulation (GDPR), fines, stock decline, loss of customer trust, and ultimately a tarnished brand. With the deadline for GDPR quickly approaching and with major breaches and questions of data privacy and use in the headlines, data governance has never been more relevant."
To help organizations successfully launch and navigate effective data governance journeys, erwin released the 2018 State of Data Governance Report, which indicated broader awareness and enterprise focus for data governance, and identified challenges in terms of understanding, executive support and financing. The report also found that a bare 6% of North American enterprises said they are prepared for the upcoming GDPR regulation.
The company has also developed and released its DG RediChekTM to help organizations determine their state of DG readiness. The easy-to-use, free tool includes a comprehensive questionnaire covering the areas most critical to DG readiness and therefore the ability to achieve regulatory compliance, as well as improve customer satisfaction and decision-making among other objectives for the data-driven enterprise
erwin's loyal customer base continues to expand, with hundreds of new logos added since the company's launch. With customer satisfaction as its number one priority, erwin is proud that its Net Promoter Score®, which measures customer experience and predicts business growth, is more than double the software industry average. The company also continues to win industry awards including a Top 100 Company by DBTA, 5-Star Rating in CRN's 2018 Partner Program Guide, DBTA Readers' Choice Award for Data Modeling, and 2018 CRN Channel Chiefs recognition for its SVP for Global Channels and Inside Sales, David Casillo.
Learn More:

About erwin, Inc.
erwin, Inc. provides the only unified software platform combining data governance, enterprise architecture, business process and data modeling. Delivered as a SaaS solution, these technologies work together to unlock data as a strategic asset so all enterprise stakeholders can discover, understand, govern and socialize data to mitigate risk, improve organizational performance and accelerate growth. For more than 30 years, erwin has been the most trusted name in data modeling and its software foundational to mission-critical data programs in government agencies, leading financial institutions, retailers and healthcare companies around the world. Learn more at http://www.erwin.com.