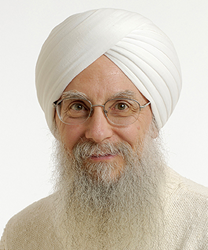 Yogic practices can reliably reduce symptom severity and, in some disorders, can reverse the disease process and restore complete health. Sat Bir Singh Khalsa PhD
AVERILL PARK, N.Y. (PRWEB) April 17, 2018
Noted researcher on mind/body medicine and yoga therapy, Sat Bir Singh Khalsa PhD, will join the faculty The American Meditation Institute (AMI) for a 32-credit hour mind/body medicine CME conference for physicians and other health care professionals, October 23-27, 2018 at the Cranwell Resort and Spa in Lenox, Massachusetts. Entitled "The Heart and Science of Yoga," this 10th annual comprehensive training, accredited through the American Medical Association and Albany Medical College Office of Continuing Medical Education, is designed to help identify, prevent and relieve physician stress and burnout.
Now in its tenth year of providing physicians continuing medical education credits, this unique curriculum of Yoga Science as holistic mind/body medicine will present an in-depth study of practical meditation and yogic skills designed to help relieve physician burnout by reducing their allostatic load––the physiological consequences of chronic exposure to fluctuating or heightened neural or neuroendocrine responses resulting from chronic stress.
Presenter Sat Bir Singh Khalsa, PhD, has conducted scientific yoga research since 2001 and is Director of Research for the Kundalini Research Institute, and Assistant Professor of Medicine at Harvard Medical School. He has researched the effects of Yoga Science on insomnia, stress and anxiety disorders in both workplace and school settings. He coordinates the annual "Symposium on Yoga Research," is editor-in-chief of the "International Journal of Yoga Therapy," author of the Harvard ebook "Your Brain on Yoga," and chief editor of the medical textbook "The Principles and Practice of Yoga in Health Care."
Dr. Khalsa's participation at this year's "Heart and Science of Yoga" conference will include a lecture entitled "Yoga: Mind/Body Connection and Research." In describing his work, Dr. Khalsa has stated, "I am keenly aware of the strong and credible science and research evidence showing that yoga and yoga therapy are highly effective at improving physical and mental fitness, self-regulation of stress and emotion, mind/body awareness and mindfulness, and even spirituality, life meaning and purpose. Through their effects on the underlying root causes of disease, yogic practices can reliably reduce symptom severity and, in some disorders, can actually reverse the disease process and restore complete health."
The entire "Heart and Science of Yoga" CME curriculum provides quality, comprehensive and evidence-based education to physicians and other health care providers on Yoga Science as mind/body medicine. Topics this year will include a comprehensive overview and instruction on AMI MEDITATION, diaphragmatic breathing, mantra science, yoga psychology, alleviating trauma and PTSD, resiliency, mind function optimization, Ayurveda, food as medicine, easy-gentle yoga, lymph system detoxification and the chakra system as a diagnostic tool. New this year, dedicated courses on addiction and pain management, a frequent conference discussion topic and growing global issue, have been added to the curriculum.
The dedication, enthusiasm, and teaching methodology of the entire AMI faculty create a dynamic and interactive course for their students. Each faculty member is committed to the advancement and training of Yoga Science as holistic mind/body medicine. In addition to Dr. Khalsa, other presenters will include Leonard Perlmutter, AMI founder; Mark Pettus MD, Director of Medical Education and Population Health at Berkshire Health Systems; Anthony Santilli MD, board-certified in Pulmonary and Critical Care Medicine; Susan Lord MD, a private practice holistic physician focusing on prevention and treatment, and former course director for the The Center for Mind-Body Medicine's "Food As Medicine" program in Washington, DC; Jesse Ritvo MD, Assistant Medical Director, Inpatient Psychiatry, University of Vermont Health Center; Renee Rodriguez-Goodemote, MD, Medical Director of the Saratoga Hospital Community Health Center; Joshua Zamer, MD, Medical Director for Addiction Medicine at Saratoga Hospital Community Health Center and Chairman of the Department of Family Practice; Beth Netter MD MT, holistic physician and acupuncturist, Albany, NY; Prashant Kaushik MD, board-certified Rheumatologist; Anita Burock-Stotts, MD, board certified in Internal Medicine; Gustavo Grodnitzky PhD, Chair of the AMI Psychological Education Committee; Jenness Cortez Perlmutter, faculty member of The American Meditation Institute, and Lee Albert, NMT, acclaimed neuromuscular therapist and gentle yoga instructor.
According to last year's attendee, Stephen Lee, MD, Psychiatrist of New York, New York, "This course was life-changing. The knowledge, expertise and compassion of the faculty introduced to me a practice and philosophy fundamentally different from the way allopathic medicine views the mind and body."
Recent attendee, Karenga Lemmons, MD, Internal Medicine physician practicing in Washington, DC, describes the conference as "The only CME course I've ever attended that reminds me that to be a better doctor, I need to take care of myself."
-30-
About the American Meditation Institute
The American Meditation Institute is a 501(c)3 non-profit educational organization devoted to the teaching and practice of Yoga Science, meditation and its allied disciplines as mind/body medicine. In its holistic approach to wellness, AMI combines the healing arts of the East with the practicality of modern Western science. The American Meditation Institute offers a wide variety of classes, retreats, and teacher training programs. AMI also publishes Transformation a bi-monthly journal of meditation as holistic mind/body medicine. Call 518.674.8714 for a mail or email subscription.
Media Contact:
Robert Washington
60 Garner Road
Averill Park, NY 12018
Tel: 518-674-8714
Fax: 518-674-8714