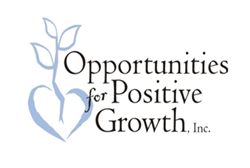 FISHERS, Ind. (PRWEB) April 17, 2018
Opportunities for Positive Growth (OPG) one of Indiana's most successful providers of services for people with disabilities, announced today, a timeline for the seamless transition of leadership for the organization.
The Board of Directors for Opportunities for Positive Growth announced on February 26 the successful completion of a multiyear succession plan. Gail Kahl, CEO, who founded this human services agency in 1998 and Dan Kahl, COO, who joined the organization in 2002, submitted their notices of retirement to be effective on April 1, 2019.
Two current OPG employees will assume the top leadership roles after the transition period is complete.
Andrea Schwartz will transition from her current role as Chief Strategy Officer into the Chief Executor Officer-Elect role assuming the duties of the COO as well. In addition, Dr. Lucy Lund will transition from Executive Director of Self Directed Services into the Chief Strategy Officer-Elect role. Gail Kahl and Dan Kahl will remain on the Board of Directors following their official last day of employment with OPG.
"The time is right for us to move on," said Gail Kahl, who started OPG as a one-person operation based in suburban Indianapolis that has served people's needs in their homes and in the community. "Andrea and Lucy will keep the mission of the organization alive and well through their experience and leadership."
With approximately a year to go until the torch is passed, all parties believe the transfer of leadership will be smooth and without many challenges.
"I can't fully express how excited I am to transition into this important role," said Schwartz who has a B.S. in Business with a Finance and Economics major from Indiana University. "Since joining OPG in 2016 it has been an honor to be a part of the company Gail has built. It's an even greater honor to succeed her."
Schwartz said that assuming leadership is bittersweet.
"Not having Gail and Dan around every day is going to be strange because they have been the face of this organization," she said. "But I think we have the pieces in place to make this transition smooth. Whether or not she is here every day, Gail will continue to be my mentor."
Dr. Lund, who has been with OPG for seven years, holds master's degrees from the University of North Dakota and Lewis University along with a Ph.D. in public policy and administration from Walden University, said she is thrilled to bring her experience to an enhanced role with OPG.
"I have had the distinct pleasure of working with Gail and Dan and I am humbled to work to continue their legacy," said Lund. "Since day one I have been in awe of Gail as someone who always puts people first."
Gail Kahl and Dan Kahl began the succession planning process in 2010 when they sold 100% of their stock to the employees of OPG via an Employee Stock Ownership Plan (ESOP).
"Our planning into retirement was taken seriously in respect to our employees, business partners, and numerous people and families we have known for the past 20 years," said Gail. "We wanted to ensure that OPG exists way past our retirement and we trust our employee-owners, leaders and board members to keep our mission, vision and values the central focus of every day."
About Opportunities for Positive Growth
Opportunities for Positive Growth, Inc. is a human services agency whose mission is to inspire people in the pursuit of a rewarding life. Through self-directed services, behavior supports, employment services and music therapy, Opportunities for Positive Growth focuses on a person's skill development to improve his or her quality of life. Opportunities for Positive Growth serves more than 1000 individuals and their families in Indianapolis, Lafayette, Kokomo, Ft Wayne, Marion, Merrillville and the surrounding communities. OPG, Inc. is nationally accredited by the Council on Quality and Leadership at the highest level being Person-Centered Excellence with Distinction. As a national leader in Shared Values defined that people who receive OPG's services determine the design of the supports and how best to use resources. Our culture is one of collaboration, excellence and innovation. It has been chosen by The Indianapolis Star as a Top Work Place in 2009, 2010, 2011, 2012, 2013, 2014, 2015, and 2017. For more information go to http://www.opgrowth.com/