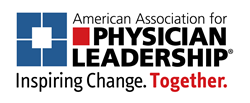 Physician leadership undoubtedly improves health care, and supporting physicians in harnessing and leveraging it is what the American Association for Physician Leadership® does best.
BOSTON (PRWEB) April 17, 2018
Physician leadership undoubtedly improves health care, and supporting physicians in harnessing and leveraging it is what the American Association for Physician Leadership® does best.
This year marks the 20th anniversary of certifying physician leaders around the world. The Certified Physician Executive credential, or CPE, is the industry standard for physicians who have achieved superior levels of professional excellence and management education while also demonstrating effective health care industry knowledge and leadership skills. The association hosts a celebration at the 2018 Physician Leadership Summit on April 28, 2018, at the Boston Sheraton.
To support the continued education of aspiring and current physician leaders, the association will feature expert panels, presentations and executive and seasoned-leader sessions during the 2018 Physician Leadership Summit in Boston April 26-30. A portion of the Summit, called the Thought Leadership Symposium, will include discussions of:

Physician wellness and burnout prevention
Opioid epidemic solutions
Population health
Industry innovation and disruptions, including workforce disruptions, disaster preparedness, financial disruption (mergers and acquisitions) and IT disruptions
"Physicians are natural stewards of the clinical delivery enterprise — and the primary managers of health for populations, which makes them best-suited to lead adaptive initiatives, innovative strategies and novel campaigns designed to improve and manage the inevitable changes that await our health care systems," said Peter Angood, MD, president and CEO of the American Association for Physician Leadership.
Highlights of the Summit:

Beyond Burnout and Resilience - Discover the varied approaches to personal and professional transformation and how to cultivate a culture of wellness in your health system.
Perspectives: Proven Solutions for the Opioid Epidemic - Discover results from a Colorado Hospital Association opioid test pilot and get perspectives from lead physicians, pharmacists, a health system CEO and a former substance abuse patient.
The Economics of Health Care and Unexpected Events - Get high-level insights from seasoned leaders on how to prepare for and manage workforce, industry, disaster and financial disruptions.
Healthy Nevada Project: Leading Population-Based Genetic Testing to Improve Community Health - Learn how Desert Research Institute and Renown Health are improving health outcomes and changing a city's health ranking.
Assessing Your Value Proposition as a Female Physician Leader - Female physicians will learn how to identify their strengths and construct a purposeful leadership journey, featuring Cleveland Clinic's Dr. Margaret McKenzie.
More than 20 peer-led presentations - Learn best practices from the association's leading physicians, who are tackling a range of issues from physician engagement to value-based care.
Spring Institute courses - Physicians can choose from a selection of actionable education applicable to today's complex health care management environment, while interacting and networking with like-minded professionals. Courses available for CME* include quality, performance, finance and more.
To learn more about the association's Summit, visit physicianleaders.org/summit.
Registration is underway and walk-up registration is available on-site.
About the American Association for Physician Leadership®
The American Association for Physician Leadership® is the only professional organization dedicated to providing education, career support and advocacy to support physician leaders as they create transformative solutions within the rapidly evolving field of health care. Founded in 1975, the nonprofit association has educated thousands of physicians worldwide and has members in 46 countries at varying stages of their careers. The association is known for its award-winning magazine, the Physician Leadership Journal, its continuing medical education (CME) courses, and its Certified Physician Executive (CPE) certification program. Based in Tampa, Florida, the association is accredited by the Accreditation Council for Continuing Medical Education (ACCME) to provide continuing education credits, and by the Certifying Commission in Medical Management to award CPE certification. Learn more online at physicianleaders.org, by email at info(at)physicianleaders(dot)org, or call 800-562-8088.
*Accreditation: The American Association for Physician Leadership® is accredited by the Accreditation Council for Continuing Medical Education (ACCME) to provide continuing medical education for physicians. The activities listed above have been approved for AMA PRA Category 1 Credit.™