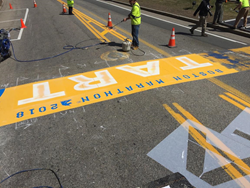 According to RoadSafe's Will Belezos, "This is not just another day on the job--it's the start of the Boston Marathon."
AVON, Mass. (PRWEB) April 17, 2018
The 122nd Boston Marathon was held yesterday, also Patriots' Day in Boston. For over 25 years, RoadSafe Traffic Systems' Avon branch has had the honor of painting the iconic blue and yellow finish line in front of the Boston Public Library on Boylston Street. New this year, RoadSafe was also hired to paint the starting line which, traditionally, had been painted by Ashland resident Jacque "Jack" LeDuc. Over the course of 37 years, LeDuc, along with friends and family, were dedicated to painting the line up until this year when he decided to "retire" from his painting job. Equipped with special stencils and spray gun, RoadSafe crew members Will Belezos and Bob Letendre took over for LeDuc. According to Belezos, "This is not just another day on the job—it's the start of the Boston Marathon."
Both start and finish lines have taken on new meaning, almost a memorial, to pay tribute to the three spectators who lost their lives and 264 who were injured after the 2013 bombings. According to James Hurley, Avon's Pavement Marking Manager, "There is definitely an uptick in the number of people visiting the start and finish lines to snap a photo or just to spend a moment reflecting on what happened here 5 years ago. My crew and I are so honored to be part of this—they do an amazing job. While the start line was painted before the race, RoadSafe paints the special finish line after the race and then maintains the markings throughout the year. A temporary finish line is in place the day of the marathon.
About RoadSafe Traffic Systems, Inc.
RoadSafe Traffic Systems, Inc. is the nation's largest provider of traffic safety and pavement marking services and innovative safety products for heavy highway, building and specialty contractors, State DOT's, local governments, U.S. railroads and utility companies.