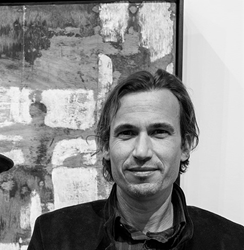 "I have always been attracted to old walls, crusts, rust. My art is born from a respect for that which is already beautiful," says Stefano.
NEW YORK (PRWEB) April 17, 2018
Sardinian artist Stefano Sanna presents his first-ever U.S. exhibitions at Agora Gallery through April 25, 2018 and ArtExpo from April 19 to 24, 2018. Inspired by his home on the Mediterranean island of Sardinia, Sanna creates new abstractions and figurative works composed of recycled materials found on the island's beaches.
As a pioneer of his unique style in Metacycling Art, his original works are born by utilizing overlooked objects, such as wood, copper, steel and old paper, and marrying them with new materials to create refined pieces steeped in layers of natural history. Stefano Sanna's works are made in homage to his paradise island in an effort to unveil nature as the true source of creativity. The island's unique colors, rock formations, rich fauna, white beaches and emerald-colored water all serve as his source for color, form, and materials.
Stefano Sanna discusses more on the value of uniqueness in art and his creative inspirations from the island of Sardinia in his new book, The Island Influence in the Art of Stefano Sanna.
Stefano Sanna's art will be presented in international exhibitions throughout 2018, including the following U.S. dates:

Agora Gallery, New York, NY | April 5 - 25
ArtExpo, New York, NY | April 19 - 24
RedDot Miami (Art Basel Miami), Miami, FL | December 5 – 9
Stefano Sanna is in the City (ArtExpo New York) until April 24. Interview appointments can be coordinated by Isabel, comprehensive digital press kit available.
Follow us on Instagram: https://www.instagram.com/stefano_sanna_art/
About Stefano Sanna
Stefano Sanna was born in 1975 in Nigeria to an Italian/Sardinian father and a Swiss mother. He began his art studies in Milan in 1994 and worked as an illustrator and comic book artist. Since 2004, he lives and works in Costa Smeralda, Sardinia. As a pioneer of Metacycling Art, his works are born from a respect for what is already beautiful and give new life and meaning to neglected and overlooked objects. Creating abstractions and figurative works, Stefano refines and refigures recycled materials, combining them with new materials to create fresh works steeped in layers of history.