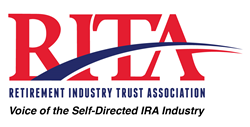 Some of the largest companies in the U.S. were partially funded by self-directed IRAs, including Roth IRAs.
SARASOTA, Fla. (PRWEB) April 16, 2018
The Retirement Industry Trust Association (RITA) shares the top 10 Tips for a Better Retirement.
1. Plan for retirement
This is obvious, but you will retire at some point, one way or the other. So you might as well make a plan, whether it setting up your estate for your heirs to enjoy or setting yourself up to enjoy your leisure years. You plan your daughter's wedding, your wife's 50 birthday party, your next vacation, so why not plan for the time when you have the options to do what you want.
2. Start Saving Early – "The most powerful force in the universe is compound interest."~ Albert Einstein.
The earlier you start saving, the more that you'll have when you need it. Life has its challenges and you never know when there will be a crisis that will stress you financially. If you don't understand the benefits of compound interest, learn. For example, investing, beginning at age 22, regular contributions of $100.00 per month could be worth $116,486.29 after 40 years at age 62, if the annual rate of return was 4.00%. If you were to wait 5 years to start savings you would only have $90,286.02, forgoing more than $26,000 at retirement. Of course, there is no guarantee than you will always have a yield of 4%, but similarly you could average better, in which case, you'll have even more when you retire.
3. Establish your Goals
What would you like to do after you retire? Where would you like to live? Do you have a bucket list? Now that you've starting planning and saving for retirement, you need to decide what you want to do when that time comes. Maybe you've enjoyed vacationing in a foreign country and would like to move there when you retire or have a second home there. Maybe you want to travel, including visiting your roots. Take some time to try to take charge of your retirement and consider what it will take to accomplish your goals. You might wish to consult with a financial planner who can assist you with your retirement planning. In any case, write your goals down and review them every year to see how you are doing.
4. Diversify your investments
Once you have accumulated sufficient funds to start your nest egg, don't put all your eggs in one basket. To protect your savings from a downturn in one asset class, diversify to include some assets that are not correlated to each other. For example, real estate and small business investments are generally not correlated with the stock market. If you leave a job, don't leave your pension plan behind. Consider rolling it over to an IRA, particularly a self-directed IRA (the Retirement Industry Trust Association's (ritaus.org) members specialize in these IRAs) or moving it to the retirement plan of your new employer. Most of the funds flowing to IRAs each year are from rollovers from pension or retirement plans. The ICI (Investment Company Institute) reports that as of the end of 2017, IRAs represented the largest component of all retirement plans ($8.922 trillion of the $27.9 trillion in all retirement plans), including more than all defined contribution plans (i.e., 401(k)s and that number is growing every year).
5. Fund a tax-deferred account
Want your savings to grow? Open a tax-deferred IRA or better yet, a Roth IRA. All your savings will grow year after year tax-deferred or tax-free compounding your earnings. You still have until April 17th to contribute to an IRA, taking a tax deduction for 2017. Depending on your earnings, and age you can contribute up to $5,500 ($6,500 if you are over 50) to a traditional IRA for 2017. Roth IRA limits are based on income. The sooner you start, the more you'll have when you retire. It is particularly important to save through an IRA if your employer doesn't offer a pension or retirement plan or if you are self-employed.
6. Start a business
Did you know that you can use your IRA to fund a business that you start? Some of the largest companies in the U.S. were partially funded by self-directed IRAs, including Roth IRAs. When using a Roth, you will avoid paying tax when the value of your company grows. There are important rules when doing so in order to avoid taxes, penalties and the possibility of losing the tax-deferred status of your IRA. RITA members can help you understand these rules.
7. Teach your children to save
Getting your kids started with saving is one of the best things you can do for them and yourself as well. Savings is an important aspect of a person's ability to support themselves and can help with future expenses such as education. A 529 plan, specifically designed for saving for educational expenses will grow tax-free like a Roth IRA if the funds are used later for legitimate educational expenses. If you don't help your children to learn how to save, you may end up filling the gap of their financial needs in the future.
8. Join your Company's Pension Plan
If your company offers a pension plan, you should join. Some companies match employees' contributions (typically 2-6%) of what you contribute. That's a gift of 2-6 % before earnings and you'll get earnings on the amount the company contributes to your plan as well! If you are fortunate, your company's plan will have an after-tax Roth option, that after contributions will grow tax-free and can later be rolled over to a Roth IRA. The icing on the cake is when your company also contributes an additional match to your plan savings.
9. Leverage your IRA
Many people are not aware that you can use other people's money (i.e., a bank loan) to leverage and increase your earnings. Typically, this can be done when you acquire an income producing property, like a rental unit, with your IRA. There is an excellent book ("Leverage Your IRA" by Matt Allen https://www.nasb.com/financial-resources/blog/archive/ira-real-estate-loans-faq/), that explains how this can be done and the advantages of doing so. Consider doing this with a Roth IRA to compound your earnings.
10. Delay Social Security
The older you are when you take Social Security, the more you will receive the rest of your life. In fact, the amount you receive will nearly double from age 62 to age 70.
You've made it to the first day of retirement! Congratulations! Now remember your plan, and don't stray. Stay active and start engaging with your hobbies. Volunteer, travel, sit back or whatever you had saved for. This is your time.
###
About Retirement Industry Trust Association (RITA)
RITA is non-profit association of regulated banks, trust companies and industry related professionals and serves as the voice of the self-directed IRA industry. As the leading innovator and contributor of retirement services industry knowledge and "best practices," RITA enables its members to provide the highest levels of retirement account and alternative asset administration and custody services.