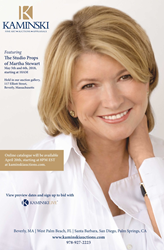 " Just in time for Mother's Day... the perfect gift from the historic Martha Stewart Studio Props auction for the "Martha" fan in the family!"
Beverly, Massachusetts (PRWEB) April 22, 2018
Kaminski Auction proudly presents a collection of the studio props and furniture from The Martha Stewart Show. Studio props from her years of television on Martha will be auctioned off by Kaminski Auctions of Beverly, Massachusetts. A portion of the proceeds will benefit the Martha Stewart Center For Living (MSCL) at Mount Sinai Hospital which serves to promote and facilitate access to health care resources for older adults and to enhance the public perception of aging.
This auction is a unique opportunity for her enormous fan base to own a piece of the history and legend of Martha Stewart. The auction will take place Saturday, May 5 & 6, 2018 at the Kaminski Auction gallery, 117 Elliott Street, RT.62, Beverly, Massachusetts. There will be in person, phone, and online bidding through KaminskiLIVE.
As one of the most influential and successful business women and authors in the world Martha has shaped the tastes and decor of households around the globe. Her career spans the worlds of publishing and broadcasting, and she has authored over 90 books on cooking, decorating and entertaining.
Her love and passion for antiques are well known and her early days of collecting influenced the trends and tastes in the antique markets. A frequent visitor over the years to the Pier Shows in New York City, and the Brimfield Antiques Shows in western Massachusetts, Martha's trained eye found milk glass, creamware, fiesta ware, glass jadeite, depression glass, vintage Christmas ornaments, and so much more. They became infinitely more desirable with Martha's stamp of approval, and her legions of fans collected what Martha collected, driving the prices and demand for these items.
Martha showcased her collections and passion for collecting these items through her television shows, her magazine Martha Stewart Living and the many books she authored. Daily she appeared on set baking cakes, creating floral arrangements and shaking new cocktails with the props on offer in this historic auction.
Included are many of Martha's favorite pieces that she sold under the Martha Stewart Collection brand as well as dinnerware, cooking utensils, barware, planters, chairs, stools and tables used on her television shows with the parade of celebrity guests and experts Martha hosted each day.
The auction gallery will be decorated in Martha Stewart's signature style with dining tables and vignettes set up with the many objects on offer in the auction. Martha's selected charity, The Martha Stewart Center For Living at Mount Sinai, will benefit, and her fans can own a piece of Martha history. These items will make fantastic gifts for Martha fans and comes just in time for Mother's Day gift giving.
For full details on preview times and how to register to bid for this exciting auction go to http://www.kaminskiauctions.com, join the mailing list, and sign up to bid with KaminskiLive, the Kaminski Auctions online bidding platform for this historic sale.