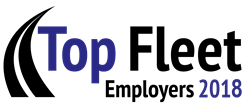 Our employees are the key to our success at Trailer Wizards. By having effective HR practices in place we are able to support our people and build the right work environment to attract and retain employees and help them succeed
MISSISSAUGA, Ontario (PRWEB) April 20, 2018
For the third year, Trailer Wizards Ltd. has been named as Top Fleet Employers, acknowledging the company's on-going commitment to implementing the right Human Resources practices.
It is an honour to have Trailer Wizards Ltd. be named as a Top Fleet Employer for the third year in a row. Through this program managed by Trucking HR Canada, Trailer Wizards Ltd. is able to acknowledge the company's on-going commitment to implementing the right HR programs. It is also a benefit to learn from others in the industry on their successes, best practices and industry trends.
"Our employees are the key to our success at Trailer Wizards. By having effective HR practices in place, we are able to support our people and build the right work environment to attract and retain employees and help them succeed," says Amy Richards, VP People & Organizational Support.
The Top Fleet Employers program acknowledges 52 of the best workplaces across Canada in the trucking and logistics industry. Workplaces are rated on areas from recruitment, retention practices, workplace culture, compensation, training & skills development to innovation.
About Trailer Wizards Ltd.:
Trailer Wizards Ltd. is one of Canada's largest and national providers of flexible commercial trailer fleet solutions. Our number one objective is an awesome customer experience. With a fleet of more than 25,000 trailers, over 20 locations, a team of expert technicians, and a leadership team committed to continuous improvement processes, we deliver an industry leading customer experience. Trailer Wizards Ltd. is there where you do business, whether you need to rent a trailer, lease a trailer, perform trailer maintenance, book a storage trailer, buy trailer parts, or even when your rented or leased fleet needs roadside assistance across North America.
Trailer Wizards Ltd. is again a winner of the Top Fleet Employers program. For more information, visit http://www.trailerwizards.com or follow us on Facebook, Twitter and LinkedIn.