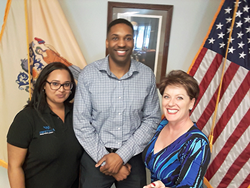 SUITLAND, Md. (PRWEB) April 17, 2018
Andrews Federal Credit Union recently sponsored the Burlington County 40-hour CIT Training in Burlington, New Jersey in an effort to support local law enforcement, and to bridge policing tactics used when dealing with veterans with Post-Traumatic Stress Disorder (PTSD).
The CIT course is a 40-hour, five day training for law enforcement officers and psychiatric screening and mobile response professionals. The curriculum is designed, coordinated and delivered by each county's CIT Leadership workgroup. It is comprised of classroom instruction, community site visits and practical exercises delivered by local mental health professionals, CIT law enforcement instructors and other subject matter experts.
"Andrews Federal continues to be a dedicated sponsor and advocate for Burlington County's goal of improving our community policing," said Jarrod Broadway, Burlington Township Patrol Officer. "We appreciate their continued support of our officers and veterans."
About New Jersey CIT
New Jersey CIT is a county based collaboration of law enforcement professionals and mental health professionals who are committed to developing a local system of services that is responsive to individuals with mental illness, family members and the police officers. The CIT model strives to provide law enforcement officers and mental health professionals with knowledge and skills that allow them to respond to the individual in psychiatric crisis in a manner that minimizes the potential for injury. In addition, the CIT model can be instrumental in helping to divert the individual with serious mental illness from the criminal justice system to appropriate mental health treatment.
About Andrews Federal Credit Union
Andrews Federal Credit Union was founded in 1948 to serve the needs of military and civilian personnel by providing a vast array of financial products and services. With over $1.5 billion in assets, Andrews Federal has grown to serve more than 120,000 members in the District of Columbia, Joint Base Andrews (MD), Springfield, Virginia (VA), Joint Base McGuire-Dix-Lakehurst (NJ), and military installations in central Germany, Belgium, and the Netherlands. In addition, the Credit Union serves as a financial partner with many select employee groups in Maryland, the District of Columbia, Virginia and New Jersey.