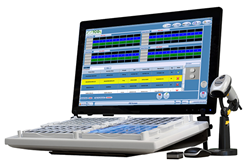 The TCGRx team has brought the blister card system into the 21st century that—until now—has remained unchanged for decades.
POWERS LAKE, Wis. (PRWEB) April 17, 2018
TCGRx, a leading supplier of pharmacy automation solutions, today announced the release of SmartCardRx; the first multi-med blister adherence system to utilize advanced color-coded LED lighting and barcode technology to help facilitate efficiency, accuracy, and safety of blister card filling. SmartCardRx enables the pharmacist to fill up to four cards at a time, adaptable to four cards for one patient or one card for four different patients, using its unique barcode system and patented fill-to-light technology for improved productivity.
SmartCardRx works with a wide range of multi-med card formats to simplify medication management for patients with multiple prescriptions. Multi-med cards help patients improve medication adherence, leading to improved health outcomes. The patient card is printed with patient information and a full medication index. In addition, the patient blister card can be custom printed with pharmacy branding, enabling each facility to uniquely align with their branding initiatives.
"The TCGRx team has brought the blister card system into the 21st century by applying technological advances to a to a system that—until now—has remained unchanged for decades," said Duane Chudy, TCGRx Executive Chairman. "SmartCardRx provides pharmacies with all the tools they need to fill scripts quickly, improving the speed, accuracy, and efficiency of filling multi-med blister cards for enhanced patient safety and adherence. Applying this new ¬¬technology to an antiquated blister card system represents a win on both sides of the pharmacy counter," Chudy continued.
About TCGRX
TCGRX is a leading supplier of pharmacy automation, offering scalable solutions that range from simple packaging technology to enterprise-wide perpetual inventory management. TCGRX solutions are specifically designed to make pharmacies and their processes more efficient. The company provides comprehensive workflow automation, including design and consultation services, to offer in-patient, out-patient and long-term care pharmacies a fully featured, integrated solution. With a strong presence in pharmacy markets throughout the U.S. and Canada, TCGRX is headquartered in Powers Lake, WI. For additional information, visit http://www.TCGRx.com, find us on Facebook, or contact us at 262.279.5307.