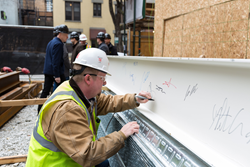 CHICAGO (PRWEB) April 17, 2018
Gilbane Building Company recently celebrated a major milestone at the 56 W. Huron Condo project in Chicago, Illinois. The topping out ceremony for this high profile residential project was attended by representatives from Kiferbaum Development Group, Gilbane and our subcontractor partners. The event took place on the project site with a beam signing ceremony to commemorate the special occasion.
Located in the heart of River North, the new 13-story condominium will contain 11 units, consisting of 10 full-floor units and one duplex unit occupying the top two floors. In addition, all 11 units will have direct elevator access. Parking will be provided on grade, within the footprint of the tower. Construction began in the fourth quarter of 2017 after an intensive preconstruction effort and will conclude in November 2018.
"Gilbane is proud of the entire project team on achieving this critical milestone with no lost-time injuries. I can't say enough about our team and the work they've done to get us to this significant milestone of the project." said Jon Bos, Gilbane Building Company Project Executive
About Gilbane Building Company
Gilbane provides a full slate of construction and facilities-related services – from pre-construction planning and integrated consulting capabilities to comprehensive construction management, general contracting, design-build and facility management services – for clients across various markets. Founded in 1873 and still a privately held, family-owned company, Gilbane has 46 office locations worldwide. For more information, visit http://www.gilbaneco.com.
Gilbane has two permanent offices located in Chicago, as well as an extensive knowledge of the Chicagoland market including construction processes, area subcontractors/suppliers, local M/WBE contractors, and familiarity with Chicago jurisdictional authorities. With 40 years of success in the highly competitive Chicagoland market, Gilbane is committed to continuing the strong tradition of excellence in the Chicago construction industry.