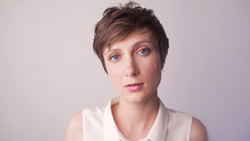 Here TV presents the largest, highest quality, most authentic library of LGBTQ+ programming of films, series and shorts from around the world
LOS ANGELES (PRWEB) April 16, 2018
"Work In Progress," set in sunny Los Angeles, is a six-part, half-hour comedy that follows a fictionalized version of Tay as she decides to quit her dead-end retail job and pursue a career as a "Documentarian Sociologist." In this first season, she seeks to answer the age-old question: "why do we work?" Throughout the season, her character interviews a range of people such as farmers, strippers, musicians, scientists, painters, professors, and many others. "Work In Progress" sneakily celebrates and roasts naïve millennials who are simultaneously better than, and unprepared, for the labor force they are freshly navigating. "Work In Progress" is sure to be on everyone's weekly watch party list when it premieres Friday, April 27th, on Here TV – with her docuseries "Inside The Rainbow" and "Queer Family Tree" following later this year (also on Here TV).
Link to trailer: https://vimeo.com/262594126/967783c0b2
"Work In Progress" is a co-production between Tay Barrett and the Here TV Incubator. Fresh out of college, Tay wrote and directed a nine-episode web series, "Tiny Nuts." It caught the eye of John Mongiardo and Christopher Donaldson, programming executives at Here TV. Her sly, nuanced and thoughtful brand of comedy led to a strong partnership with Here TV, the world's greatest destination for LGBT video content. After the success of "Tiny Nuts," which Here TV licensed to HULU, John and Christopher invited Tay to join the network's new Incubator program and make a half hour comedy series with the studio's backing and encouragement.
"Working with Tay on her very first TV series and helping to bring her art, ideas and stories to life is what the Incubator program is all about," says John Mongiardo, Managing Director of Here TV.
"Work In Progress" features an ensemble cast that includes Philip Morris (Seinfeld), Michele Lee (Tony Award Nominee) and Tay's parents – Christopher Barrett and Anne Schedeen (Alf, Love Boat). "Work In Progress" and Tay Barrett are represented by United Talent Agency / Mickey Berman.
Here TV (http://www.heretv.com) launched in 2004, making it the world's first SVOD LGBTQ+ video service and is available on all major US cable operators including Xfinity, Spectrum, Cablevision, FiOS, U-Verse, Cox, as well as http://www.here.TV where it can be viewed on all iOS and Android mobile devices. Here TV reaches millions of viewers each month and has produced Academy award-winning films such as "God's and Monsters," "Departures," and has received three Daytime Emmy Award nominations.
"Here TV presents the largest, highest quality, most authentic library of LGBTQ+ programming of films, series and shorts from around the world," says Christopher Donaldson, Director of Content, Here Media.
Press Inquiries: AGPR(at)AndersonGroupPR(dot)com