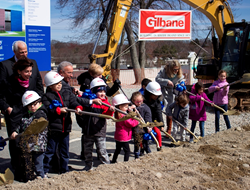 "Gilbane is proud to serve the residents and students of North Providence and we believe this program will serve as the future model for the next generation of schools in Rhode Island." Bill Bryan, Senior Project Executive, GIlbane Building Company
PROVIDENCE, R.I. (PRWEB) April 17, 2018
On Monday, April 9, 2018, Gilbane Building Company and The S/L/A/M Collaborative, Inc. (SLAM) joined North Providence Olney and McGuire Schools, Rhode Island Governor Gina Raimondo, state, town and school officials, teachers and students for a ground breaking ceremony on the Olney School grounds. The former two schools were demolished in the summer of 2017 and will be replaced simultaneously with two new 63,500 square foot buildings to accommodate grades K-5 for each school. Completion of the two new facilities is expected for the 2019-2020 school year.
Gilbane Building Company will provide Construction Management Services and SLAM has completed the design and programming/planning for the redevelopment of the two existing sites to support the construction of the two new school buildings.
"The commitment to investing in the future of education in North Providence is evidenced in the genuine partnership between the Mayor and Town of North Providence officials, the residents of North Providence, the Rhode Island Department of Education, SLAM, and Superintendent Bridget Morisseau. It truly is inspiring," notes Gilbane Senior Project Executive, Bill Bryan. "Gilbane is proud to serve the residents and students of North Providence and we believe this program will serve as the future model for the next generation of schools in Rhode Island."
"We are pleased to partner with the North Providence school department and Gilbane in creating age appropriate, collaborative, and inclusive learning environments that support the curriculum to educate students well into the future," says Glenn Gollenberg, AIA, SLAM Principal-in-Charge. "The new buildings will also benefit the surrounding community, offering a variety of spaces that will accommodate differing activities."
The building's design will provide maximum exposure to natural light and support the curriculum for the new McGuire and Olney schools. Smaller learning communities will be organized by Grade level clusters for K-1, 2-3 and 4-5 to enhance interactions amongst learners, increase a feeling of belonging and inclusion, and facilitate teamwork. Within each grade cluster a Learning Commons is provided to facilitate small group learning and interaction amongst grade levels. This new concept in early education, called Learning Commons, replaces the traditional "hallway" with educational spaces. Outdoor spaces will serve as an extension of the educational, athletic and community programs.
About Gilbane Building Company
Gilbane provides a full slate of construction and facilities-related services – from pre-construction planning and integrated consulting capabilities to comprehensive construction management, general contracting, design-build and facility management services – for clients across various markets. Founded in 1873 and still a privately held, family-owned company, Gilbane has 46 office locations worldwide. Gilbane has built some of the most complex and celebrated construction projects in the State of Rhode Island, including the Interink at T.F. Green Airport, IGT headquarters (formerly GTECH) ,URI's Ryan Center and the renovation of the Dunkin' Donuts Center. For more information, visit http://www.gilbaneco.com.
About The S/L/A/M Collaborative
The S/L/A/M Collaborative (SLAM) is a national, fully-integrated, multi-disciplinary architecture firm of 191 professionals, offering architecture, planning, interior design, landscape architecture and site planning, structural engineering and construction services that focuses on K-12 public/private education and higher education, healthcare and corporate market sectors. SLAM is located at 80 Glastonbury Boulevard, Glastonbury, CT and has additional offices in Atlanta, Syracuse and Boston. For more information on SLAM please visit http://www.slamcoll.com.