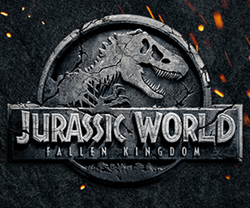 "I've loved Jurassic Park since I was a kid and I can't wait to see this newest adventure!
(PRWEB) April 16, 2018
Something is coming – don't worry though – it's not a T. Rex. Get ready for a "tee" Rex instead with the release of new Fifth Sun exclusive apparel for the highly anticipated Jurassic World 2 film, Jurassic World: Fallen Kingdom. Fifthsun.com is excited to introduce select designs today, April 16th, 2018, on the first day Fallen Kingdom merchandise is available to the Fifth Sun community for purchase.
Fifth Sun creates innovative and exciting art and is thrilled to offer officially licensed designs by Jurassic World, to its community for the first time. The Jurassic Park & Jurassic World franchise is a perfect reminder that anything is possible; creation – whether it is art creation or the creation of new dinosaurs – is never impossible, a feat that John Hammond makes very real in the beloved dinosaur films. Fifthsun.com's official designs reimagine beloved childhood fantasies with artwork that portrays vivid dinosaurs, classic logos, and funny catchphrases from the films.
5SUN's Operations Specialist & Land Before Time Enthusiast, Susannah Talbot, admits, "I've loved Jurassic Park since I was a kid and I can't wait to see this newest adventure! I definitely want to wear a new Fallen Kingdom tee when I see the movie." Join in on Fifthsun.com's excitement for the film premiere on June 22nd, 2018 with your very own dinosaur-inspired shirt, tank, and more.
Get your hands on a new Fifth Sun Jurassic World: Fallen Kingdom t-shirt (if you have tiny T. Rex hands, get someone to assist you) before Isla Nublar's volcano explodes and it's too late.
About Jurassic Park Franchise:
Steven Spielberg's blockbuster hit roared into theaters in 1993 and shook the world with stunning special effects, action-packed adventure, and the makings of every dinosaur-lover's dream (or nightmare). The paleontologists Alan Grant and Ellie Sattler team up with mathematician, Ian Malcolm, to get the first glimpse of the dinosaur theme park, Jurassic Park, created by the billionaire, John Hammond. The popular film was followed by hits like The Lost World: Jurassic Park (1997), Jurassic Park III (2001), and Jurassic World; each film continues to excite and terrify audiences across the globe.
About Jurassic World: Fallen Kingdom
The newest chapter in the Jurassic World series sends audiences back to Isla Nublar with Owen Grady and Claire Dearing to help save the dinosaurs from final extinction. In the process, Owen and Claire discover unexpected secrets and creations have been taking place on the secluded island. Get ready to find out what is lurking the shadows with the film premiere of Jurassic World: Fallen Kingdom on June 22nd, 2018.
About Fifth Sun
Fifth Sun's journey from a small independent t-shirt company was shaped by its continued focus on balance, community, and the personal touch that remains at the core of its identity. With more than 20 years of experience in the industry, Fifth Sun has woven together a shared spirit that thrives on designing vibrant and meaningful art for key brands like Star Wars, Disney, Nintendo, Marvel, and more.
Fifth Sun is a company of artists, designers, creators and, above all, dreamers. We are inspired by the world around us and enjoy making the imaginary into a reality. We track trends in art, music, pop culture, internet memes, and fashion to design art that is accessible and relatable to diverse audiences. We create progressive, ethical, and original artwork.
We've never lost our sense of curiosity and it drives us to create unforgettable fashions for your favorite brands.
Please let us know what you think of the shirts by tweeting us (@5Sun) or sharing photos of you on our Facebook (@FifthSunGraphics) & Instagram @FifthSunOfficial)! We're your biggest fans and would love to see you strut your stuff.