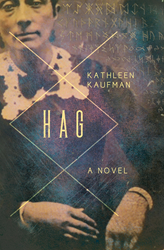 Kathleen Kaufman has woven a beautiful and haunting tale that explores not only the magic of folklore but also the strength of women and the bonds of family,
NASHVILLE, Tenn. (PRWEB) April 17, 2018
Kathleen Kaufman's third novel, Hag, will be released by Turner Publishing Company on October 2, 2018. Known for her original and contemporary take on Scottish and Celtic mythology, Kaufman's new book will explore generation upon generation of women drawing from the bloodline of the Cailleach, a timeless source of matriarchal power from the Scottish lowlands.
The hag's descendants face adversity over many generations, finding their place in the cycle. Through dreams and visions, each daughter discovers the power of their bloodline and some readily accept their destiny more than others. Still, they must live to pass the wisdom from daughter to daughter as the Cailleach watches from her cave, until ultimately a daughter returns and the cycle set in motion ages ago comes to completion.
Kaufman's signature take on storytelling, described by Booklist as "chilling," Kirkus as "graphically horrific… crisp… elegant," and by the Midwest Book Review as having an "extraordinary flair for imaginative and entertaining storytelling," brings a unique authenticity to the concept of witches, exploring the ebbs and flows of the position of women throughout history, through the lens of women who persisted instead of, or in spite of, the men in their lives.
"The tale was born from a childhood of listening to my mother's extraordinary stories about unexplainable things that would happen to her and all the women in our bloodline, all the way to our lowland Scottish roots," said Kaufman. "It spans from Scotland to the United States and is as much Americana as it is a tale of the old world. Each woman in their lifetime is alternately feared, revered, respected, and reviled for their exceptional abilities. It is the story of particular women, but in a way, it is a story of all women as we struggle to find the power that exists in all of us that enables us to move beyond the world in which we have been constrained."
Hag is Kaufman's second book with Turner Publishing company, her first The Lairdbalor, also rooted in Celtic folklore, was launched in October 2017 which earned positive reviews from critics and readers.
"Kathleen Kaufman has woven a beautiful and haunting tale that explores not only the magic of folklore but also the strength of women and the bonds of family," said Turner president Todd Bottorff. "This novel is truly a testament to a unique and deeply moving voice that Kaufman's already becoming known for. Fans of Deborah Harkness and Alice Hoffman will want this to be first in line on their fall reading list."
Hag is currently available for review. Please contact the publisher at marketing@turnerpublishing.com to request an advance review copy.
About Kathleen Kaufman
Kathleen Kaufman is a native Coloradan and long-time resident of Los Angeles, California. She is a University of Southern California alum, teaches high school English, and is a writing and composition adjunct professor at Santa Monica College. In addition to writing, Kathleen is an avid amateur photographer and has published work in The Huffington Post and other publications. When not writing, she probably has a camera in hand or is curled up with a good horror novel. Kathleen currently lives in Los Angeles with her husband, son, terrier, and a pack of cats. Hag is her third novel.
About Turner Publishing
Founded in 1985, Turner Publishing Company is an award-winning independent publisher based in Nashville, Tennessee with multiple New York Times best-selling authors. It has been named by Publishers Weekly as one of the fastest growing independent publishers in the nation. For more information, visit http://www.turnerpublishing.com.