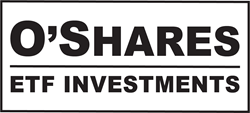 BOSTON (PRWEB) April 16, 2018
O'Shares Investments, Inc. ("O'Shares") and FFCM LLC ("FFCM") announce the proposed reorganization of the O'Shares FTSE U.S. Quality Dividend ETF (NYSE Arca, Inc.: OUSA), O'Shares FTSE Europe Quality Dividend ETF (NYSE Arca, Inc.: OEUR), O'Shares FTSE Asia Pacific Quality Dividend ETF (NYSE Arca, Inc.: OASI) series of FQF Trust (each, an "Existing Fund") into corresponding newly created, identically named exchange traded funds of the OSI ETF Trust (each, a "New Fund").
The Board of Trustees of FQF Trust has approved an Agreement and Plan of Reorganization and Termination ("Agreement") providing for the reorganizations ("Reorganizations") of each Existing Fund into the corresponding New Fund. Each Reorganization is subject to approval by the shareholders of the corresponding Existing Fund. Each New Fund has the same name and underlying index as the corresponding Existing Fund, will be managed in accordance with the same investment objective, and will be subject to substantially the same investment strategies, policies, and risks as the corresponding Existing Fund. Each New Fund will be operated in a substantially similar manner as the corresponding Existing Fund, except that each New Fund will be advised by O'Shares Investment Advisers, LLC and sub-advised by the Existing Funds' current adviser, FFCM LLC. The same portfolio managers who manage the Existing Funds will continue to manage the New Funds. Pursuant to the Agreement, all of the assets and liabilities of each Existing Fund will be transferred to the corresponding New Fund in exchange for shares of beneficial interest of the corresponding New Fund. As a result of the Reorganizations, shareholders of each Existing Fund will become shareholders of the corresponding New Fund. Shareholders of each Existing Fund will receive shares of the corresponding New Fund with a value equal to the aggregate net asset value of their shares of the corresponding Existing Fund held immediately prior to the Reorganization. Each Reorganization is expected to be a tax-free transaction for federal income tax purposes.
Shareholders of record as of May 7, 2018 of the Existing Funds will be asked to vote on the Reorganizations. If approved by each Existing Fund's shareholders, the Reorganizations are expected to close on or about June 22, 2018.
O'Shares ETF Investments
O'Shares provides ETFs for conservative long-term wealth management, using FTSE Russell Quality/Volatility/Yield rules-based indexes across the family of O'Shares ETFs investing in equities, across the U.S., Europe and Asia-Pacific regions. O'Shares ETFs are designed to be core investment holdings providing cost-efficient long-term investment performance, with less risk and more yield, by holding portfolios of large-cap, mid-cap and small-cap companies that meet financial criteria for quality, low volatility and yield. oshares.com
FFCM LLC
Founded in 2009, FFCM, LLC is a Boston-based investment advisory firm founded with a vision to provide investors with efficient and cost effective exposure to investment factors through a family of ETFs and investment strategies. The leadership team at FFCM has extensive experience in traditional and alternative factor driven investments, ETFs, quantitative investing, operations and portfolio management.
FFCM is part of the AGFiQ quantitative investment platform for AGF Investments Inc. ("AGF", an affiliate of FFCM). AGFiQ is powered by an intellectually diverse, multi-disciplined team that combines the complementary strengths of investment professionals across AGF and its affiliates from Highstreet Asset Management Inc. and FFCM. AGFiQ.com
For Further Information:
Kevin Beadles
kbeadles(at)oshares(dot)com
Kevin Collins
kcollins(at)ffcmllc(dot)com
Before you invest in O'Shares Investments Funds, please refer to the prospectus for important information about the investment objectives, risks, charges and expenses. To obtain a prospectus containing this and other important information, please visit http://www.oshares.com to view or download a prospectus online. Read the prospectus carefully before you invest. There are risks involved with investing including the possible loss of principal.
Concentration in a particular industry or sector will subject the Fund to loss due to adverse occurrences that may affect that industry or sector. The Fund may use derivatives which may involve risks different from, or greater than, those associated with more traditional investments. The Fund's emphasis on dividend-paying stocks involves the risk that such stocks may fall out of favor with investors and underperform the market. Also, a company may reduce or eliminate its dividend after a Fund's purchase of such a company's securities. Returns on investments in foreign securities could be more volatile than, or trail the returns on, investments in U.S. securities. Exposures to foreign securities entail special risks, including political, diplomatic, economic, foreign market and trading risks. In addition, the Fund's investments in securities denominated in other currencies could decline due to changes in local currency relative to the value of the U.S. dollar, which may affect the Fund's returns. See the prospectus for specific risks regarding the Fund.
Past performance does not guarantee future results. Shares are bought and sold at market price (not NAV), are not individually redeemable, and owners of the Shares may acquire those Shares from the Funds and tender those Shares for redemption to the Funds in Creation Unit aggregations only, consisting of 50,000 Shares. Brokerage commissions will reduce returns.
O'Shares Investments Funds are distributed by Foreside Fund Services, LLC. Foreside Fund Services, LLC is not affiliated with O'Shares Investments or any of its affiliates.