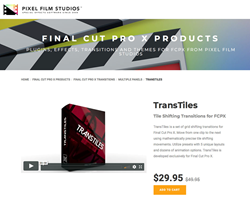 "TransTiles adds creative shifting transitional elements that fall perfectly in an FCPX project".
ALISO VIEJO, Calif. (PRWEB) April 18, 2018
TransTiles is a set of grid shifting transitions for Final Cut Pro X. Move from one clip to the next using mathematically precise tile shifting movements. Utilize presets with 5 unique layouts and dozens of animation options. TransTiles is developed exclusively for Final Cut Pro X.
TransTiles provides Final Cut Pro X users with a set of exciting grid transitions. Watch as TransTiles splits the screen into sections and proceeds to animate the current scene out and the next scene into view. Simply drop a transition between two clips and move the start or end handle to adjust the speed and duration.
The spacing between tiles can be adjusted using the Scale in Edges slider. Set the value to 0 to place the tiles close together or set it to 200 to widen the gaps. Create varied looks easily by manipulating the spacing in Final Cut Pro X.
TransTiles comes with unique animations for each included layout. Every animation preset also comes with the ability to flip animations using simple checkboxes. Flip animations vertically, horizontally, or both with just a few easy clicks.
There are 5 layout types included in TransTiles. Users can choose from these grid types: 1×2, 2×1, 2×2, 3×2 and 4×3. Each layout has unique animation timing to account for the amount of tiles being moved. Pixel Film Studios ensures editors have the upmost variety in editing using TransTiles in Final Cut Pro X.
Established in 2006, Aliso Viejo, California-based Pixel Film Studios is an innovative developer of visual effects tools for the post-production and broadcast community. Their products are integrated with popular non-linear editing and compositing products from Apple FCPX. Apple, the Apple logo, Mac OS X, and Macintosh are registered trademarks of Apple Inc. in the U.S. and/or other countries. All other trademarks and trade names are the property of their respective owners.