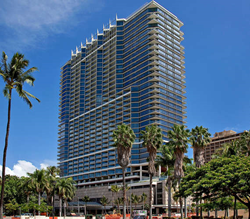 The upgrade allowed for no interruption to our operations, and no downtime. It was simple and fast, and the InvoTech team was able to successfully complete the implementation of the upgrade flawlessly
LOS ANGELES (PRWEB) April 17, 2018
InvoTech Systems Inc. announced the recent upgrade of its Uniform System at Trump International Hotel Waikiki. InvoTech Systems is the leading provider of advanced Linen Management, Laundry and Uniform Systems that integrate the latest RFID technology to increase profitability for hotels, resorts, casino operators, sports arenas, convention centers and theme parks. The InvoTech System installed at the Trump International Hotel Waikiki manages the Uniform inventory for 500 employees, and the property joins InvoTech's extensive client portfolio of RFID Uniform systems worldwide, including its other Trump properties the Trump Chicago, Las Vegas, National Doral Miami, Washington D.C., Baku, Adelaide Hotel Toronto, and The Dominick. Click here for more information on InvoTech's Linen, Laundry and Uniform Systems.
The InvoTech Uniform System provides significant cost saving benefits by cutting labor costs, eliminating losses, reducing purchases and lowering laundry expenses. The system eliminates traditional labor-intensive tasks, such as manual barcode scanning, counting and recordkeeping to reduce operational costs.
The RFID technology upgrade will provide additional cost-saving benefits by automating manual tasks that were previously required. Specialized waterproof RFID tags are discreetly attached to each uniform piece to replace the HF chips previously used. The InvoTech Uniform System automatically tracks RFID tagged uniform pieces when issued to employees and as it is shipped to and received back from the laundry. Previously, the HF chips had to be scanned in small quantities for each of these daily processes.
"The upgrade allowed for no interruption to our operations, and no downtime. It was simple and fast, and the InvoTech team was able to successfully complete the implementation of the upgrade flawlessly," said Sean Vaziri, Director of IT, Trump International Hotel Waikiki. "The recent InvoTech upgrade to RFID technology will provide better control and overall efficiency required to manage the Uniform Department as well as use the same functionally, features and reports," added Vaziri.
The RFID technology allows for multiple uniforms to be processed simultaneously and automatically, and the recordkeeping is also automated. The system integrates with automated uniform conveyors to distribute the uniforms to employees, and to automatically record which uniforms are taken by employees.
The InvoTech Uniform System is a paperless "green" system. The System includes an electronic signature capture terminal that records employee signatures when uniforms are assigned, which eliminates the need to print reports to obtain signatures. In addition, all system reports can be viewed on the screen or generated to PDF files to be easily viewed or shared, which also facilitates a paperless "green" system.
Oswald Lares, InvoTech director of sales, said, "By upgrading their uniform systems our customers automate their uniform operations. InvoTech customers see an ROI in the first year by eliminating losses and reducing purchases. The InvoTech RFID technology instantly provides additional savings through increased efficiency. More than 500 properties worldwide rely on InvoTech's Uniform System to increase profitability through more efficient operations and processes."
InvoTech has over 500 of satisfied clients worldwide in more than 30 countries, including hotels, resorts, casinos, theme parks, stadiums, arenas, convention centers, medical centers, cleanrooms, and laundries. Why InvoTech? Because major brands like Hyatt, Marriott, Ritz-Carlton, Hilton, MGM International, Wynn Resorts, Caesars Entertainment, Universal Studios, LEGOLAND, Intel, Pfizer, Madison Square Garden, and Staples Center rely on InvoTech Systems to provide operational efficiency, full-accountability, and turn-key solutions for laundry, linen and uniform management. See what our clients are saying about us.
About InvoTech Systems
InvoTech Systems provides the most advanced inventory management systems for uniforms, linens, and laundry operations. Our very reliable and easy-to-use systems integrate the latest RFID technology to significantly improve operational efficiencies to eliminate losses, reduce purchases, cut labor costs, and lower laundry expenses. InvoTech provides solutions for hospitality, healthcare, cleanrooms, stadiums and arenas, theme parks, commercial laundries, and many other industries worldwide. With over 20 years of experience providing inventory management systems, InvoTech is known for our expertise and reliable solutions tailored to our client needs and outstanding customer support. Visit our website to find out more.
About Trump International Hotel Waikiki
Trump® International Hotel Waikiki opened its doors in 2009 and was quickly recognized as a world-class destination, being the first hotel on the island Oahu to ever receive the prestigious Forbes Travel Guide Five-Star Hotel award, bestowed to the hotel for four consecutive years in 2015, 2016, 2017 and 2018. A traveler's favorite, Trump Waikiki was also rated the #1 hotel on TripAdvisor in Honolulu for 76 consecutive months. The ultra-luxurious Trump International Hotel Waikiki offering 462 guest rooms and suites is less than a two minute walk to the beach and is located within proximity to the heart of Waikiki's exclusive restaurants, shops, entertainment and nightlife. Spacious and residential-style accommodations sleep up to eight guests and feature fully-equipped kitchenettes in guest rooms, and suites feature fully-equipped gourmet kitchens, as well as in-suite washer and dryer units, providing the ultimate comfort and convenience for luxury travelers and families. For reservations, please call toll-free 1.877.683.7401 or visit http://www.trumphotels.com/waikiki. Join us on Facebook at http://www.facebook.com/trump.hotel.waikiki or follow us on Instagram @trumpwaikiki or Twitter at #trumpwaikiki.