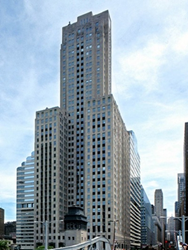 "Our Chicago Executive Briefing Center will allow us to engage with customers, partners, and the industry at a new level." -Warren Roy, Founder & CEO
CHICAGO (PRWEB) April 17, 2018
Global Relay, the leading provider of compliance archiving, supervision, eDiscovery, and analytics for the financial sector, is proud to unveil its new, state-of-the-art office and Executive Briefing Center (EBC) in the heart of downtown Chicago.
Global Relay is kicking off its Chicago EBC opening with a compliance user forum on April 18 and 19. The company's leadership team will speak on a broad range of topics, including emerging data security and privacy threats, analytics, machine learning, and AI, with focus on Global Relay's unique methodology and approach.
Designed to provide customers with a venue for industry education, peer collaboration, and training, the 4,500-sq. ft., custom-designed space on Wacker and LaSalle Drive represents an important evolution in Global Relay's business approach – one aimed at creating a stronger local presence in the financial centers where the company operates.
Opening an EBC in Chicago will enable Global Relay and its Midwestern customers to better collaborate and discuss issues of interest and concern to the industry, including big data, surveillance, cyber security, personal privacy and risk.
"This city holds deep roots for us, having signed right here some of our first linchpin customers," said Warren Roy, CEO & Founder of Global Relay. "Our Chicago EBC will allow us to engage with customers, partners, and the industry at a new level. We look forward to expanding our EBC facilities in other financial centers."
In addition to Chicago, Global Relay has 8 offices globally, including in Vancouver, New York, and London. Global Relay Chicago's move from its former office in Willis Tower to its new address is one of two expansion efforts being undertaken by the rapidly-growing SaaS technology firm. Global Relay London is also set to relocate and open a new office, complete with its own EBC and a data replication center, later in the year.
info(at)globalrelay(dot)net | 866.484.6630 | http://www.globalrelay.com/
About Global Relay
Global Relay is the leading provider of cloud-based electronic message archiving, supervision, and eDiscovery solutions for the global financial sector and other highly regulated industries. Global Relay delivers services to over 23,000 customers in 90 countries, including 22 of the top 25 banks. Global Relay Archive supports email, IM, Bloomberg®, Thomson Reuters, social media, mobile messaging, and more - with mobile, Outlook, and web access.