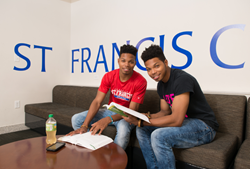 "In our experience, more affordable and accessible textbooks and course materials drive bookstore utilization, which results in more prepared students and the overall success of an institution." - John Squires, CEO, Akademos
NORWALK, Conn. (PRWEB) April 18, 2018
St. Francis College has selected Akademos as its online bookstore provider to help students obtain significant savings on course materials and make purchasing easier through personalized listings linked to their course management accounts. Faculty and staff will benefit from actionable data and analytics that connect learning material selections to academic outcomes. All course materials will be available via the new platform in support of Fall Term 2018, with a pilot during the final summer session.
"We're pleased to be working with St. Francis College, and look forward to helping them support their mission to provide an affordable, high-quality education to students from New York City's five boroughs and beyond," said John Squires, CEO, Akademos. "In our experience, more affordable and accessible textbooks and course materials drive bookstore utilization, which results in more prepared students and the overall success of an institution."
A wide selection across new, used, rental and eBook formats will be offered and when using Akademos' proprietary peer-to-peer Marketplace of over 100 million new and used textbooks, students will save an average of 60% off publisher list prices. Students will also be able to take advantage of free shipping offers, year-round online buyback and a price match guarantee for new textbooks.
The Akademos platform will offer seamless integration between the College's Ellucian Colleague Student Information System (SIS), Canvas Learning Management System (LMS), and the Akademos online bookstore. The integration will allow students to view a personalized listing of all of their registered courses and their corresponding required and optional materials and to order materials for an entire term in 5-minutes or less.
"We are always looking for ways to give students more time to focus on their studies," said Jose Rodriguez, Dean of Students. "The partnership with Akademos takes away the headache of searching all over the web for the lowest price and gives them a one-stop shop."
The online bookstore will also support the college's faculty and administrators, who will benefit from an easy-to-use and powerful Adoption & Analytics Portal. This platform offers a step-by-step guide for course material adoptions, recommendations and adoption history, and the ability to compare real-time prices for course materials. The analytics tool will also enable faculty and the College's leadership to track critical data, including student purchasing and bookstore utilization, that can be easily merged with the institution's student success database.
___________________________________________________________________________
About Akademos
Akademos offers customized, online bookstore services and solutions that support what's most important to institutions - from full-service virtual bookstores to unique partnerships and products supporting on-campus shops. Akademos delivers cost savings on course materials for students while providing administrators and faculty with critical control over the textbook delivery process.
Akademos offers an innovative textbook marketplace, best-in-class eCommerce platform, eLearning solutions, and a unique adoption and analytics portal. The company's comprehensive supply-chain solution and commitment to responsive personal service makes it the choice of leading institutions throughout the country.
Akademos helps institutions deliver the right course materials, at affordable prices, on time. Learn more at akademos.com.
About St. Francis College
St. Francis College, founded in 1859 by the Franciscan Brothers of Brooklyn, is located in Brooklyn Heights, N.Y. Since its founding, the College has pursued its Franciscan mission to provide an affordable, high-quality education to students from New York City's five boroughs and beyond.
St. Francis College, 180 Remsen Street, Brooklyn Heights, NY 11201
http://www.sfc.edu