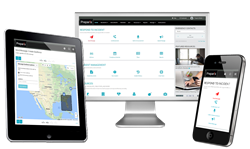 "Having everything you need in one convenient location is key to efficiency and effectiveness during a disruptive event and maintaining continuity of operations following an incident." Wade Tucker, Chief Sales Officer at Preparis
ATLANTA (PRWEB) April 17, 2018
Florida based customer loyalty marketing firm is now live with Preparis' solution for business continuity, emergency notification, and incident management. Preparis is a leader in business continuity and offers software and services to help companies navigate the everchanging landscape of threats to their business.
Working in a fast paced environment, it's important to have a plan in place that provides the firm, and its employees, peace of mind knowing that if something were to happen, they would know which steps to take to handle the issue as quickly and effectively as possible.
"The great thing about Preparis' solution is you don't have to choose between protecting your employees or focusing on core business operations. You can do both without skipping a beat. Preparis' software for emergency notification and incident management makes the process quick and easy," said Wade Tucker, Chief Sales Officer at Preparis.
Integrated within the Preparis Portal for incident management and emergency notification is Preparis' newest software tool, Preparis iQ, which is an organizational compliance and readiness tool. Preparis iQ lets you set alerts for due dates and past due notices, quickly produce and distribute plans or other critical documents for business continuity, manage compliance initiatives, and more.
"Having everything you need in one convenient location is key to efficiency and effectiveness during a disruptive event and maintaining continuity of operations following an incident," said Tucker. "We're excited to show the new tool at upcoming tradeshows this year and share how companies like this marketing firm can use the Preparis Portal and Preparis iQ to protect their employees, operations, and brand during any type of incident," concluded Tucker.
If you'd like more information on the Preparis Portal, please visit http://www.preparis.com/preparis-portal/.
If you'd like more information on Preparis iQ, please visit http://www.preparis.com/iq/.
Preparis is an all-in-one business continuity and emergency notification solution that helps businesses protect their people, operations and brand while meeting regulatory requirements. The company's unique combination of technology and services makes creating and maintaining business continuity programs easy. For more information about Preparis, please visit http://www.preparis.com or call (855) 447-3750.